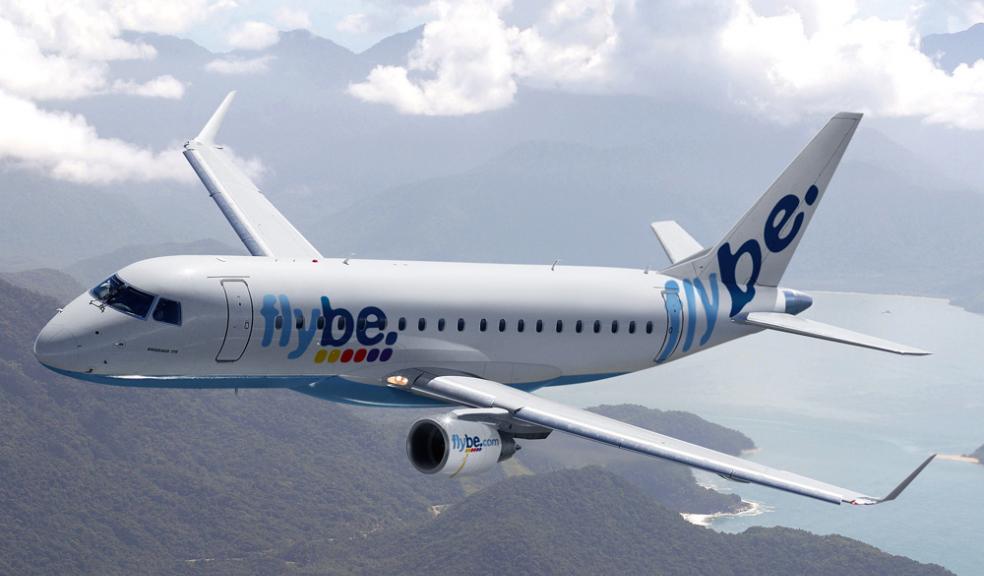 Flybe launches 2020 summer schedule with over six million seats on sale
Flybe, Europe's largest regional airline, has announced the first phase of its 2020 Summer schedule featuring 104 routes with a total choice of up to 2,500 flights a week across the UK and regional mainland Europe.  These include seven new routes – six from London Southend and one between Manchester and Stuttgart. 
Seats are on sale from Thursday 14th November 2019 at www.flybe.com for travel between 29th March and 24th October 2020.  Additional summer routes will be announced shortly. 
Flybe will next year complete a full re-brand as part of the extended Virgin family under the new name of Virgin Connect. With an added focus on Business and Visiting Family & Friends' (VFR) travel, it will offer a strong, resilient service to its customers and this new schedule marks the beginning of the airline's exciting journey.  
The airline, together with its partner Stobart Air, is part of the Connect Airways group which brings together many synergies and Flybe's new 2020 Summer schedule provides  a perfect example of this. 
In addition, and as part of a new commercial arrangement with Stobart Air to optimise operations, Flybe will next summer increase significantly its short-haul presence in the London market by offering 10 routes with a choice of up to 214 flights a week to and from London Southend Airport.  
Six new routes - Belfast City, Edinburgh, Glasgow, Newcastle, Isle of Man and Jersey - will be added to the four existing routes to Caen, Groningen, Newquay and Rennes.  The increased London Southend network will be operated by three of Flybe's own 78-seat De-Havilland Q400 turboprops based in Belfast City, Edinburgh and Glasgow alongside two 70-seat ATR aircraft based at Southend. 
Flybe connects people and communities and offers multiple opportunities for onward travel either with its own services or via its 11 codeshare partners operating from the main hub airports it serves which includes the many destinations offered from Manchester with Virgin Atlantic.  This is an added convenience for those wanting to travel from their regional airport especially to destinations across the world when booked direct with the airline or through a local travel agent. 
Highlights of Flybe's 2020 Summer schedule 
For travel Sunday 29th March – Saturday 24th October 2020 inclusive
Six new routes from London Southend Airport – Belfast City (18 flights per week): Edinburgh (18 p/w): Glasgow (18 p/w): Newcastle (13 p/w): Isle of Man (7 p/w): Jersey (up to 2p/w)
Four continuing routes from London Southend - Caen, Groningen, Newquay and Rennes
8 winter ski routes extended through Easter - to Chambery from Birmingham, Exeter and Southampton; and to Geneva from Cardiff, Exeter, Isle of Man, Jersey and Southampton
Additional highlights from selected bases:
BELFAST CITY
18 flights p/w to London Southend
E190 jet service to London City at peak times
Improved timings for business travel including earlier morning and evening flights for more convenient day returns to Edinburgh
BIRMINGHAM
Improved timings and Ejet service to Edinburgh at peak travel times
Adjusted timings giving three departures to Glasgow between 1630-2005
EDINBURGH
18 pw to London Southend
E190 jet service to London City at peak times
Improved timings to Belfast City
Improved schedule and aircraft upgrade to EJet service at peak times to Birmingham
MANCHESTER
New daily Ejet service to Stuttgart with morning departure giving good connectivity options for business travel
Extra flights to Amsterdam (from 3 to 4/d); Luxembourg and Hannover  (from 4p/w to daily) 
SOUTHAMPTON
Increased frequency – Edinburgh (to 5 daily with new early morning departure); Newcastle (to 4 daily); Paris Charles de Gaulle (to 3 daily Mon-Fri and twice daily on Sundays)
Full details available at www.flybe.com including 2020 Summer schedules from franchise partners Blue Islands and Eastern Airways
Connect Airways' CEO, Mark Anderson comments: "I am very excited with our new Summer 2020 schedule and its focus on our business customers and regional communities. The schedule includes many of our most popular high frequency services with better timings to accommodate our frequent fliers as well as new flights from London Southend airport. By increasing our presence at London Southend our customers will also, for the first-time next summer, benefit from Flybe's ability to create a truly customer-centric regional network.
"This schedule strengthens Flybe's commitment to providing unparalleled connectivity from regional airports to destinations across the UK, Europe and beyond.
"We understand our customers' needs and recognise that their time is precious. This is why we are proud to give them added opportunity to stay connected to what matters most to them, in a way that no other regional airline can. At the same time, we will deliver outstanding customer experiences with a personal touch.
"As Flybe moves towards its full re-brand as Virgin Connect next year, we are proud of the role the airline continues to play in bringing people and communities even closer. 
"Together with our teams, we look forward to welcoming all our customers onboard our flights next Summer."