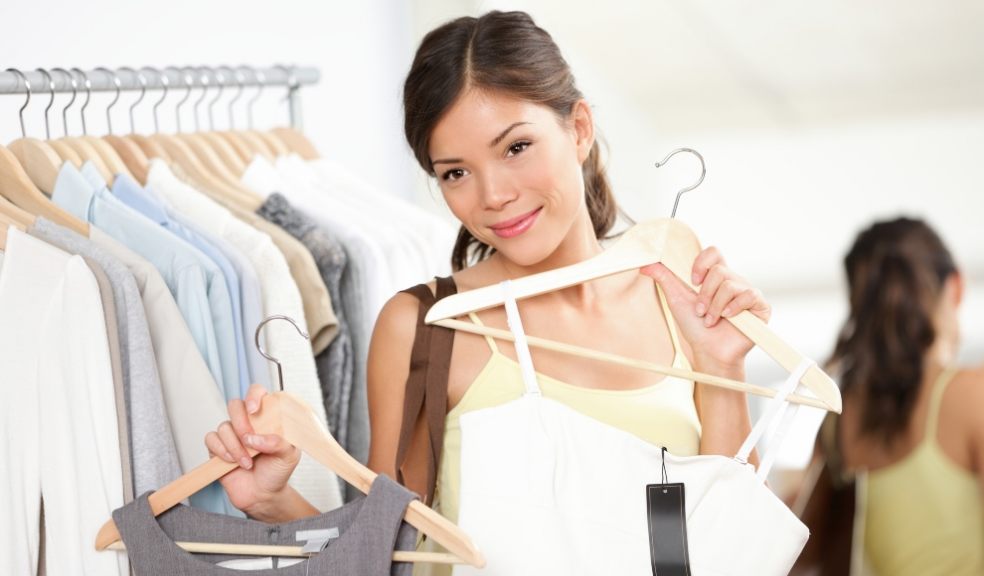 What makes a fashion brand sustainable?
How do you decide where to buy your clothes? In the past, your choice may have been guided by style, budget or location, but increasingly sustainability is influencing shoppers' decisions.
Research released by Mintel reveals that 30% of consumers would choose a retailer based on whether or not they sold sustainable fashion ranges.
Young people are even more concerned about the impact of their fashion spending habits, with 68% of 16 to 24-year-olds saying they are trying to make more ethical purchases than they did in the last year, compared with an average of 57% over all ages.
However, in spite of those good intentions, 79% of people still find it difficult to know which fashion retailers are ethical.
"There isn't enough understanding at the consumer and the industry level on what ethical and sustainable looks like," says Lottie Hanson-Lowe, creative partner in the sustainable fashion team at environmental charity Hubbub.
"It's challenging for the public to know what a retailer is doing as there are a lot of buzzwords that can be used that can leave people confused about what retailers are actually doing."
In a bid to get to the bottom of the problem, we asked Hanson-Lowe to breakdown the key issues and offer advice on how consumers can reduce their fashion footprint.
How would you define a sustainable or ethical fashion retailer?
"It is really difficult to define what makes a retailer sustainable or ethical as there isn't currently an industry accepted definition of what sustainability means.
"If a brand is putting its workers and the environment ahead of its profits, then you can feel confident that they're better than other 'fast fashion' retailers.
"Retailers who invest in high quality materials, try to source their materials or make their clothes as locally as possible, who pay good wages and provide support for their garment workers, makers and employees are on the right track to a more positive fashion industry."
What are the main ways clothing retail impacts the environment?
"Clothing has a HUGE impact on the environment, in many different ways.
"We have an enormous waste problem both at the end of life stage and in the garment production stage.
"We're sending one million items of clothing to landfill every week in the UK. Clothes cause issues such as microfibres (which contributes to plastic pollution), chemical pollution from dyeing, distressing and pesticide use, extensive water use, climate change and carbon emissions."
How are retailers tackling these issues?
"It can be challenging for brands to tackle all of these issues, but if they're making sure their working conditions are safe for their garment workers then this can have a positive impact on the production process and the environment, particularly if they're limiting their employee's exposure to toxic chemicals and pesticides.
"Amongst other things, retailers need to invest in high quality materials, make clothes that last, have clear policies against garment destruction, invest in positive certifications and rigorous auditing, and they need to have clear targets that they work towards in reducing their impacts.
"They also need to empower their customers to know how to care for their clothes and understand the impact a certain garment has had on the environment."
What are some examples of brands that are committed to sustainable practices?
"Mary Benson, Birdsong, Know the Origin, Ilk and Ernie and Hoda.
"They put a lot of time into exploring how they can use less wasteful materials and support their garment workers to make beautiful clothes that people will love."
How can people reduce their environmental impact when buying new clothes?
"If you're shopping at a high street retailer, there are often certain garments that are better than others, so do look out for materials that are recycled or organic and for clothes that have less blends of different types of materials as it makes them easier to recycle at the end of life.
"Caring for your clothes can make a big difference. Fix things that need repairing – most dry cleaners have a skilled person who can help you with this if you don't have the skills yourself.
"Wash your clothes less often and wash on 30 degrees when they do need a clean. Air dry your clothes instead of using the washing machine."
What are some other steps can consumers can take to make their shopping habits more sustainable?
"Buy less. This is fundamentally one of the best things we can do.
"Be more mindful about your purchases. Question what it is you're buying – who made it? How was it made? Where was it made? And what is it made from?
"Have an idea in your head about things you feel are missing from your wardrobe and look to find these things through creative ways.
"There are lots of clothes swaps out there and lots of great places to find second-hand clothes. If there is something that you want from a high street brand, you can often find these cheaper on Ebay or Depop."
Picture: Getty Images/iStockphoto