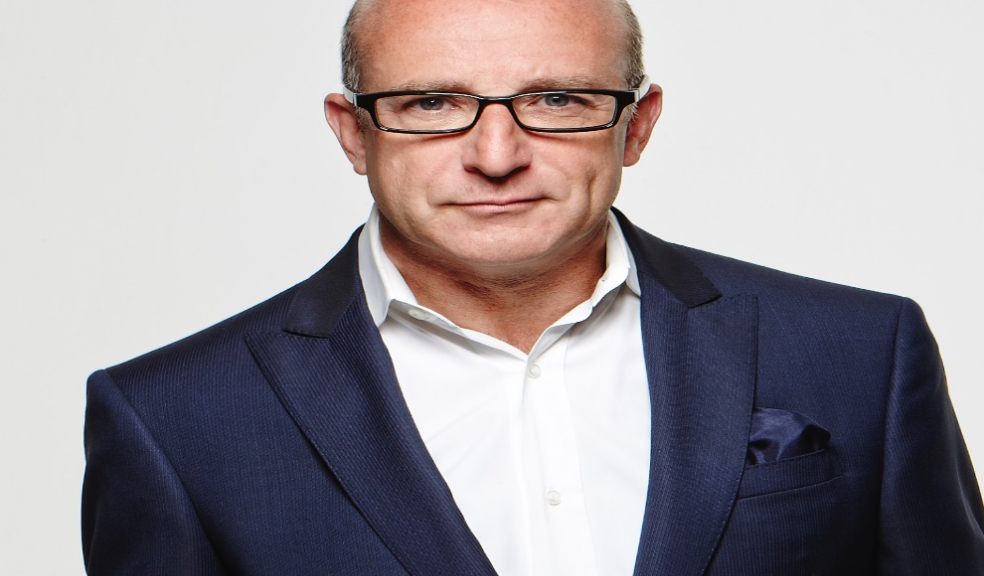 Paul McKenna: I used to think single meant being free, and married was being trapped
Step back a few years, and there weren't many people who would have benefited more from a Paul McKenna book on relationships, than Paul McKenna.
He rose to stardom in the 1990s as one of the first great self-help gurus, and his small library of no-frills lifestyle guides have made him one of the UK's bestselling non-fiction authors of all time.
But in his self-help empire, extending from office politics to hypnotism, was one glaring hole – there was nothing about relationships, a fact not unnoticed by his publishers. "About ten years ago, they asked me to write a book about relationships," he recalls, "and I said, 'Well, if I can stay in one'."
Long a self-described "commitment-phobe", and a devoted bachelor, McKenna has been photographed with a string of women over his 35-year career. He has a famous penchant for celebrity – he helped Ellen DeGeneres quit smoking, and holidays with Simon Cowell – and dealt constantly with the relationships of others in his work.
But for McKenna there never seemed to be a Hollywood ending. "I got it spectacularly wrong time and time again," he says. "I was repeating the same mistakes, and I wasn't taking responsibility for how things were ending."
As the failed relationships piled up, and one by one his friends paired off, McKenna concluded that he was just not the marrying kind. "I've come to the conclusion that I may not be able to be in any relationship. Maybe I'm not built for that," he told The Telegraph in 2012.
Fast forward to 2020, and McKenna is enjoying full-fledged marital bliss. It took his former personal assistant Kate Davey to finally put a ring on his finger, and now the two have a house, a dog and all the domestic trimmings.
"I'm not just married, I'm happily married," he says, incredulously. "We had our most fantastic year last year. My wife said she didn't know she could be this happy. For me it's like winning the Nobel Prize."
It's the sort of storyline that usually comes with a movie deal – the self-help guru who finally learned to help himself – and McKenna is all too aware of the irony. "It's the old 'healer, heal thyself' narrative," he laughs, "if you want to learn something, go and teach it. I'm helping all these other people but I can only do that if I'm in reasonable shape myself."
"I used to think that being single meant being free, and being married was being trapped," he says, "and I was worried about getting my heart broken. As soon as I was falling for someone part of me would want to sabotage it so I remained in control, and I had to learn a different way of thinking."
Having conquered relationships personally, McKenna is now hoping to do so professionally. His new book, 7 Things That Make Or Break A Relationship, is less a list of specifics, more a series of approaches, designed to evolve alongside any given relationship.
"Some people will say, 'I want to be in a relationship', like they want to be in a football team. But a relationship isn't a thing, or a destination that you can arrive at, it's a dynamic process of continually relating to someone.
"The seven things are a practical system – I can say to you the word 'communication' but what does that mean? It's the way in which we communicate that determines our outcomes."
The book is more scientific than its title might suggest, and McKenna is keen to differentiate his work from the frivolous checklists you find in some magazines. "They have their place," he says, "but it's like newspaper astrology, it should be considered entertainment. People want that to an extent, but I want to make it clear that this is way more than that."
He's battled scepticism throughout his career – a writer for the LA Times once called him 'a snake oil salesman … with a whiff of televangelism' – and part of his brand is to be unruffled by criticism. "I really don't mind people being sceptical of what I do," he says, "when I started down this path hypnotism was voodoo, and people thought it was some sort of dangerous mind control."
"I didn't shroud myself in mystique – I'm a bloke from North London with a candid way of speaking – so I try to demystify things. When we put on hypnosis seminars we get doctors, psychologists and healthcare professionals coming, as well as hypnotherapists."
Sometimes, people believe a little too much. In 1998, he was sued by a French furniture polisher, who claimed that McKenna hypnotised him so effectively during a stage show, that he suffered from schizophrenia and became convinced Coronation Street was sending him subliminal messages.
The suit did not succeed, but McKenna is undoubtedly persuasive. Slicker than an oil spill, he talks at a mile a minute, and has a vibrant but velvety voice, soothing and energetic all at once. He self-promotes relentlessly, but his manner is so matter-of-fact that it's difficult to get upset about it.
He's almost as confident as his book titles. Several of his bestsellers lead with deliberately outrageous claims – I Can Make You Thin, I Can Make You Happy, I Can Make You Rich – but McKenna rejects accusations of overreach. "I feel very passionate about my work," he says, "it's not just a commercial venture, this is my role in life, and my goal is to improve people's lives."
His latest offering is phrased marginally more modestly, but the self-belief remains undimmed. "Fairy tales often end with a happily ever after," he says, "but they don't tell you how to achieve it. This book is how."
Paul McKenna's '7 Things That Make or Break a Relationship' published by Bantam Press is out on 13 February, £14.99. 'Change Your Life' tours the UK from 6 March. For tickets:  paulmckenna.com
Picture: Steve Shaw/PA)