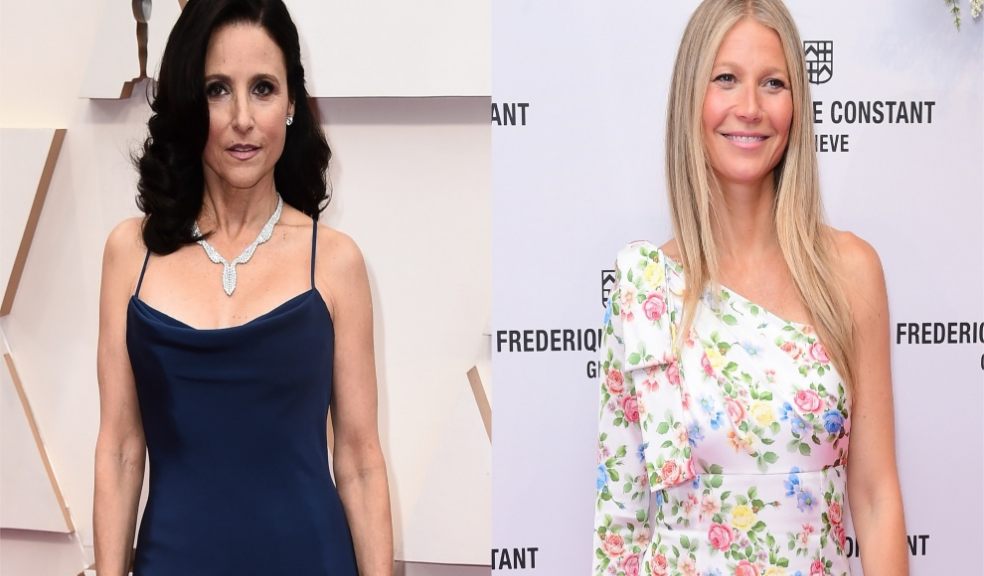 As Gwyneth Paltrow and Julia Louis-Dreyfus open up, four other celebs on postnatal depression
Postnatal depression is rarely spoken about, which is surprising considering the NHS says it affects more than one in 10 women within a year of giving birth.
However, an increasing number of famous mothers speaking out about the baby blues is helping smash the stigma around it. Gwyneth Paltrow and Julia Louis-Dreyfus are the latest to open up about their experiences in a discussion on the Goop podcast.
On the podcast Paltrow says "it's only in the past decade that it's something people" talk about.
She adds: "I didn't even understand what was happening, I thought I must be tired, I just need to power through. At the time I didn't have the facility for real introspection." It was only when her then-husband Chris Martin mentioned postnatal depression that she put a name to it and started seeking help.
Louis-Dreyfus had a similar experience. She says on the podcast: "I didn't feel like myself, I don't know how else to say it. Like my brain wasn't my own, it was a very uncomfortable feeling."
Paltrow and Louis-Dreyfus join a growing chorus of celebrities who have been candid about their experiences of postnatal depression. Here are just a few of them…
1. Chrissy Teigen
In March 2017, Chrissy Teigen wrote an essay in Glamour about her experiences with postnatal depression following the birth to her daughter Luna. "I couldn't figure out why I was so unhappy," she wrote.
She talks in the essay about the physical symptoms as well as the emotional ones, and acknowledges how knowing what you're dealing with can help: "I remember being so exhausted but happy to know that we could finally get on the path of getting better… I started taking an antidepressant, which helped. And I started sharing the news with friends and family — I felt like everyone deserved an explanation, and I didn't know how else to say it other than the only way I know: just saying it. It got easier and easier to say it aloud every time."
2. Adele
In a 2016 interview with Vanity Fair, Adele, who gave birth to her son Angelo in 2012, said: "I had really bad postpartum depression after I had my son, and it frightened me… I didn't talk to anyone about it. I was very reluctant."
She said she felt better when she finally opened up about it to a friend, and noted that her knowlege of postnatal depression had been limited to the idea that sufferers don't want to be with their child, or are worried they might hurt them – even though everyone's experiences will be different. Whereas she was "obsessed with my child. I felt very inadequate; I felt like I'd made the worst decision of my life… It can come in many different forms."
3. Cardi B
Cardi B became a mother in July 2018, to Kulture, and said in a 2019 interview with Harper's Bazaar: "When I gave birth, the doctor told me about postpartum, and I was like, 'Well, I'm doing good right now, I don't think that's going to happen.' But out of nowhere, the world was heavy on my shoulders." The rapper made the decision to cancel tour dates with Bruno Mars to spend more time with her daughter.
4. Serena Williams
Serena Williams gave birth to baby Olympia in September 2017 and later, recounted the experience in CNN – she suffered from a pulmonary embolism after her C-section, with doctors then finding a hematoma. Williams had to stay in bed for six weeks and developed postnatal depression.
In May 2018 she told Harper's Bazaar: "Honestly, sometimes I still think I have to deal with it [postnatal depression]. I think people need to talk about it more because it's almost like the fourth trimester, it's part of the pregnancy. I remember one day, I couldn't find Olympia's bottle and I got so upset I started crying… because I wanted to be perfect for her."
Picture: Julia Louis-Dreyfus and Gwyneth Paltrow (AP/A)