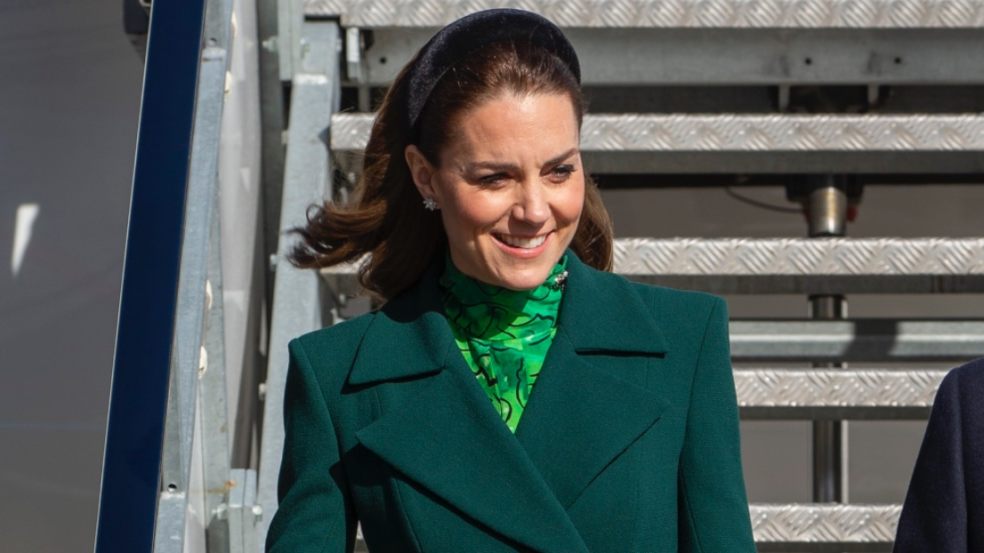 Kate keeps to tradition and dazzles in green on royal visit to Ireland
The Duchess of Cambridge often uses fashion to pay tribute to the country she's visiting, and the latest royal tour to Ireland is no different.
William and Kate have touched down in Dublin to kick off their first official visit to the country. Kate disembarked the plane wearing head-to-toe green, the signature colour of the Emerald Isle.
Her dark green coat is from London-based designer Catherine Walker, worn on top of a lighter hued, patterned Alessandra Rich dress and a matching LK Bennett clutch. The Duke even got in on the action, wearing a green tie with his classic suit and overcoat.
Headbands are fast becoming the Duchess's signature look, and this black velvet padded version is very much in her wheelhouse.
Kate isn't the only royal to wear green in Dublin – when the Duke and Duchess of Sussex visited the city in 2018, Meghan touched down in a matching emerald skirt and sweater set from Givenchy.
Kate's fashion choices are closely scrutinised, and she often uses colours, styles and patterns as a nod to wherever she is visiting. Take the royal couple's last trip to Pakistan. Not only did the Duchess wear modern takes on traditional outfits like a shalwar kameez and a kurta, she also largely chose green hues – which also happens to be Pakistan's national colour.
On the 2016 royal tour to Canada, Kate wore a red and white patterned Alexander McQueen dress which many interpreted as a reference to the country's iconic maple leaf flag.
The Duke and Duchess of Cambridge will be in Ireland for three days, during which they will sip a pint at the Guinness factory and also visit the counties of Meath, Kildare and Galway – and we doubt this is the last time Kate wears green.
Picture: The Duke and Duchess of Cambridge visit Ireland (Ian Vogler/Daily Mirror/PA)