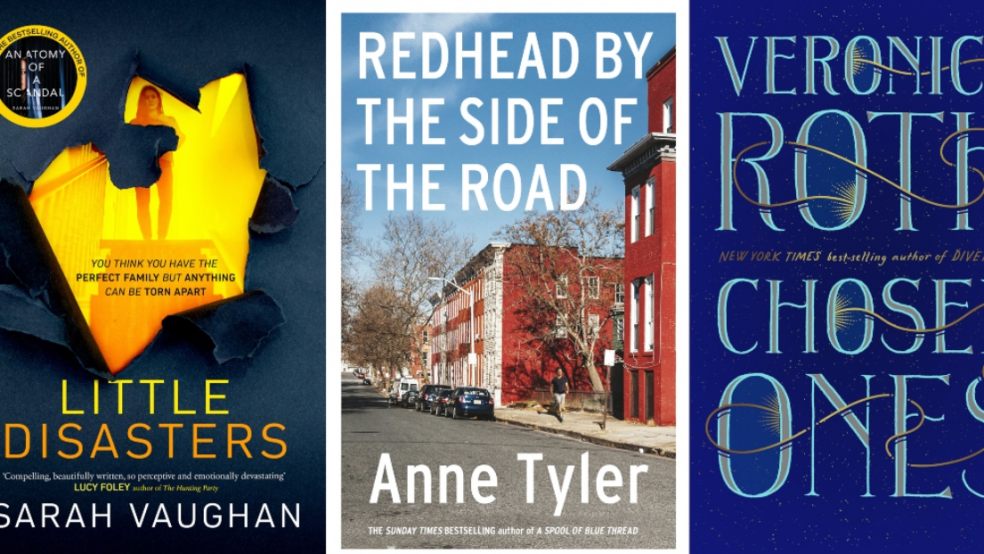 Five new books to read in lockdown
With lockdown only set to continue, bolster yourself with a few good reads…
Fiction
1. Redhead By The Side Of The Road by Anne Tyler (Chatto & Windus, £14.99)
Pulitzer prize winner Anne Tyler's latest novel focuses on "what goes through the mind of a man like Micah Mortimer". Micah, an unabashed lover of routine, runs his own one-man IT business helping mostly-elderly technophobes sort out their computer problems. But suddenly his usually ordered life is shaken up by two events. His girlfriend, although he refuses to use such a teenaged word about her, thinks she is going to be evicted from her sublet apartment, and a teenage boy who's the son of his first real love appears on his doorstep in close succession. These two events send shock waves through his life. Tyler is expert at writing about the human heart and relationships. She can subtly convey a conversation where Micah has no idea of the subtext and the hurt he has caused, while we as readers can decode every nuance. Micah, who knows he is regularly, if momentarily, tricked by his eyes into believing something his head knows not to be true, grapples with the issue of reconciling his heart and head to forge a new path forward. And while lovers of Anne Tyler will devour this, it is not her best, but Anne Tyler on a bad day is better than most others on their best.
2. Little Disasters by Sarah Vaughan (Simon & Schuster, £14.99)
When a mother brings her 10-month old baby into A&E with a skull fracture, surely it's right to raise questions? But what if the mother was your friend? A friend you have always thought of as a model parent – even trusted with your own children? And yet, something is telling you, her story doesn't add up… Sarah Vaughan's latest novel markets itself as a psychological thriller, but is more of an exploration of the intensity of motherhood, asking the reader to question the delicate line between maternal love and sanity. Thought provoking and delicately executed, this beautifully written character drama paints a cautionary portrait of motherhood with recognisable characters you'll want to rally and reprimand in equal measure throughout.
3. Chosen Ones by Veronica Roth (Hodder & Stoughton, £14.99)
Ten years after saving the world, the chosen ones are called back to do it all again. Veronica Roth has taken the leap from young adult to older audiences with her latest instalment of the globally bestselling Divergent franchise. Fans of the series will love revisiting a familiar universe, but it also works for those who haven't read any of its predecessors. The characters are likeable – if predictable at times – and make the lengthy novel an easy read. Overall enjoyable, but let down by a slightly anti-climactic ending. I probably wouldn't dip into the Divergent universe again, but I enjoyed my time while I was there.
Non-fiction
4. The Address Book by Deirdre Mask (Profile Books, £16.99)
Deirdre Mask's The Address Book has pretty much everything you want in discursive non-fiction: a fascinating topic, excellent breadth and depth of research across multiple countries and communities, logical compilations of the facts into topic areas and an enthusiastic and chatty narrator. Uncovering what the humble address reveals about us in a multitude of ways – from how we perceive and make sense of our world, through to what constitutes a social legacy, and on to the very timely usefulness of the address in helping us deal with epidemics – Mask has done an excellent job of collating an impressive array of fact, fable and experience. It's unfortunate that at times the delivery isn't quite as tight or as nuanced as both author and topic deserve. Perhaps a more challenging edit would have helped Mask's manuscript really sing. However, there's still much to appreciate in this book – and a lot of fantastic facts to share or store in the back of your mind for the next pub quiz.
Children's book of the week
5. Viper's Daughter by Michelle Paver (Zephyr,  £12.99)
Viper's Daughter is the seventh in the popular Wolf Brother series. Torak and Renn live in the forest with Wolf, their canine pack-brother, and his family of cubs. When Renn leaves without telling Torak, he and Wolf set out to find her – and so embark on an adventure through the Far North and on to the Edge of the World. Where this book may be somewhat predictable and lacking in well-rounded characters, it keeps a fast pace, making it a real page turner. Descriptions of the icy landscape, crackling with demon-infested volcanoes, all add to the tension. Characters quickly feel familiar, even for readers new to the series, and the interpretation of events through Wolf's eyes makes it thoroughly enjoyable. Author Michelle Paver does an excellent job of making this a standalone read, with fans of the series unlikely to feel bogged down by the ways in which characters and past events are introduced.