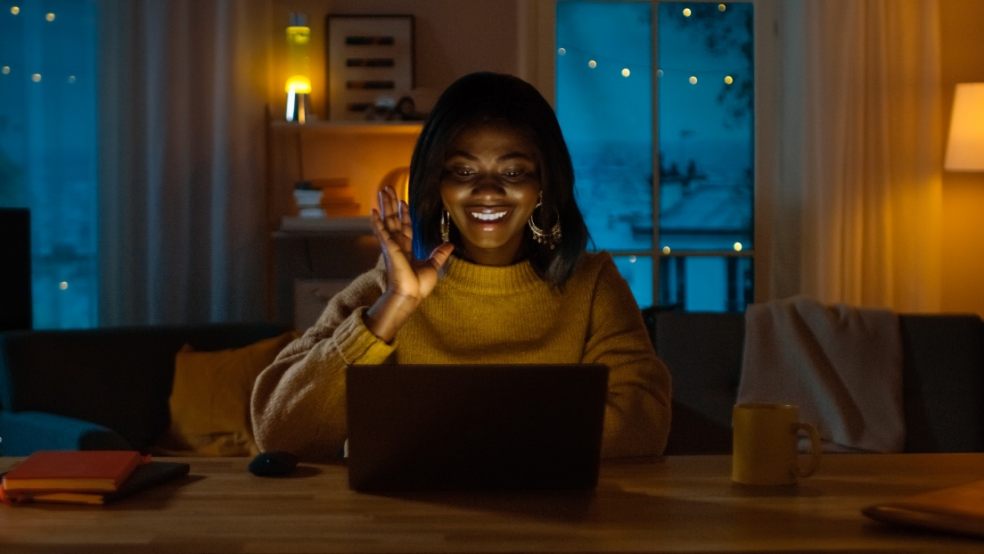 Eight date night ideas if you're separated from your partner right now

For couples torn apart by lockdown, romance has probably slipped down the agenda, but there's no reason date night should follow events and sporting calendars out the window.
Here are a few ideas for staying connected in your relationship, and turning nice nights out into romantic nights in…
1. Go on a walk together
In these domestic days, every moment outside is precious, so amp up your daily walk with your video calling tool of choice. It's easy to slip into monotony when all conversation is backed by the same wall in the same room, and a simple change of scene can freshen things up. The evenings are lengthening and the weather improving, so use your fresh air wisely.
2. Play a game
Games can be fun, be they board, parlour, or video. Word-based games like Articulate are easily adapted for Zoom dates, tabletop staples like Scrabble can be played with a board each end, while Cluedo, Monopoly, and chess all have apps aplenty.
Video games have long discarded their childish reputation too, and during lockdown online play is having a fully-fledged moment. Animal Crossing has swept the console market in recent weeks, a game in which players busy themselves with mundane tasks like buying furniture and watering plants.
There was a time date nights of Scrabble and Nintendo might have raised a few eyebrows. How times have changed.
3. Cook together
They say the best route to the heart is through the stomach, and, anatomy aside, dinner is still date night 101. You may not be able to meet in your favourite restaurant, but preparing food can be almost as much fun as eating it, especially when one of you inevitably messes up. Learn a new recipe together via video, or recreate a meal from a previous date.
If all goes to plan, your food will be ready at exactly the same time, so light some candles and enjoy dinner à deux with everything but the footsie.
4. Go on a double date
Never have you had so much time to spend with your significant other – online or otherwise – and never has there been so little to talk about. Corona-chat doesn't make for great pillow talk, and the question, 'How was your day?' may get very boring very fast.
Step forward: the Zoom party. Pre-lockdown, double dates were difficult to organise, famed for potential awkwardness, and more associated with sitcoms than reality. Now, it's just another day of lockdown socialising, and you shouldn't have any trouble matching diaries.
5. Learn a new skill together
Lockdown can feel restrictive, but it can also be an excuse to do something different, something you would never think to try normally.
It could be anything from astronomy to origami, but the best new skills will work in co-op. Learn a language you can then converse in, pick up instruments that will harmonise, or order in the same wines for a virtual tasting. 
6. Write each other letters
OK, so it's not a date per se, but if you do the job properly, it can be just as intimate and just as time-consuming. There's a personal touch to pen and ink that's wholly lost over email.
Letters won't get wiped the next time you drop your phone in the loo, and you can get away with grand romantic rhetoric you'd never pull off in person. In theory, it's your words that should count. In practice, a smartly addressed envelope and elegant writing paper are a reliable recipe for butterflies.
7. Take a virtual tour
Virtual travel has been something of a lifeline for housebound globetrotters, allowing you and your partner to take a turn together around some of the world's most iconic destinations.
Examples include (*deep breath*)… the ancient relics of the British Museum, the historic splendour of the Vatican, the soaring glaciers of Patagonia, the world-famous artworks at the Louvre, 360 degree panoramas of Disney World, the NASA Research Center at Langley, the peak of El Capitan in Yosemite, the flora and fauna of San Diego Zoo, the world's largest cave… The list goes on.
8. Netflix and chill
The 'chill' part might need some tweaking, but otherwise, Netflix provides. Netflix Party means you can screen a movie or TV show for your and your loved one, alongside a video chat that will bring you as close as can be to a cosy night in. Add two glasses of wine, a pinch of popcorn, and stir.
Image: Getty Images/iStockphoto