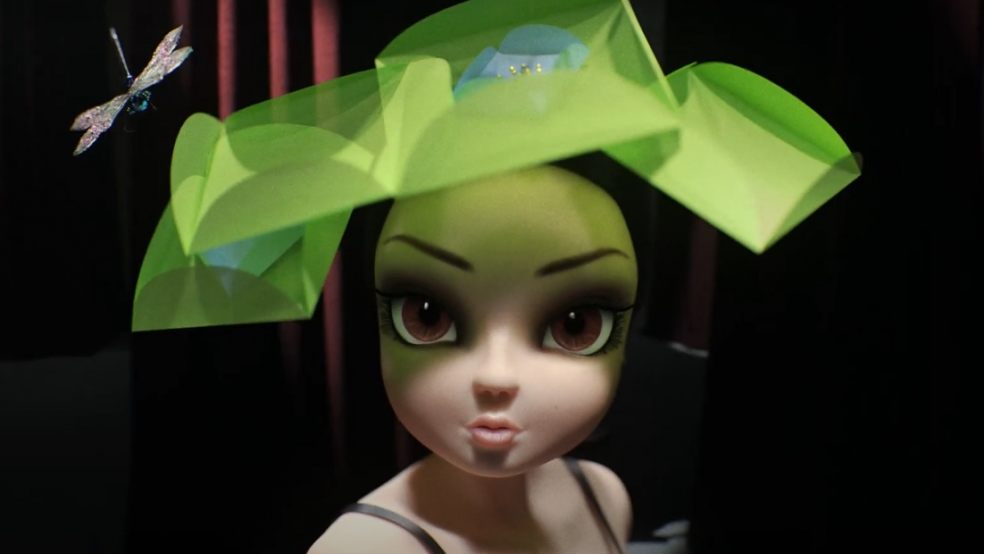 Everything that happened at the first ever virtual London Fashion Week
When London Fashion Week rolls around every February and September, we're used to seeing new collections on the runways and snaps from celebrity parties.
However, this year was always going to be an unusual one. The event – taking over the regular slot for the menswear fashion week instead – went totally digital and gender neutral for the very first time.
As part of the 'big four' of fashion weeks with Paris, Milan and New York, London became the first major city to hold a virtual fashion week, making it a blueprint of what we might expect moving forward.
The pandemic has changed how we think about clothes and the fashion industry in general, so the new event needed to reflect these seismic shifts. Politics and social issues were covered throughout the long weekend, as the industry reckons with its own problem with diversity in the midst of anti-racism protests all over the world.
LFW was entirely held on a digital platform, made up of talks, video presentations, virtual art galleries and more. Even though a lot of the big names were missing – like Burberry and Victoria Beckham – there were still plenty of highlights from the new event…
Ahluwalia
The current situation means it's been difficult for designers to make new collections – but this doesn't mean they've stopped creating entirely. Just take Priya Ahluwalia, who set up virtual reality 3D art gallery for London Fashion Week, featuring photographs from Britain's first Punjabi community in Southall.
Unlike a regular catwalk show, you can still experience many of these online events – check out the gallery here.
The University of Westminster
Students this year may have found graduation a bit of an anti-climax, but MA graduates from the University of Westminster have used London Fashion Week as a platform to showcase and celebrate their final collections.
Fashion is inextricably linked with politics and social movements, so it's unsurprising these collections tackled weighty issues like racism and Black Lives Matter.
On the other end of the spectrum, one student made clothes out of plastic bags from the supermarket.
Marques'Almeida
Marques'Almeida was one of the biggest names on the schedule and the Portuguese duo behind the brand – Marta Marques and Paulo Almeida – used the opportunity to show off their new sustainable capsule collection, made from upcycled materials.
The pandemic has made the whole fashion industry take stock of its impact on the environment, and this is obviously what Marques'Almeida has been doing. The brand released a manifesto for the new collection, which is called ReM'Ade, outlining how it will be more sustainable. Marques told Vogue: "As hideous and dreadful as the pandemic has been, this has been a weird, positive thing to come out of it. It pushed us."
To launch ReM'Ade, the brand produced a short documentary showing the designers looking at all the leftover fabrics discarded from previous collections – which have then been upcycled to make new clothes. Watch the video here.
Charles Jeffrey: Loverboy
Charles Jeffrey's aesthetic is all about explosive patterns and colours in a flamboyant punk style. Jeffrey did plan a characteristically exuberant event for his Loverboy brand to celebrate his new capsule collection, but changed tact at the last minute.
Due to recent global events highlighting racism, the event was transformed into a platform for minority voices, with all proceeds going to UK Black Pride. Jeffrey posted on Instagram that it's "an opportunity to book, spotlight, and raise the voices of POC talent". The live-streamed event was full of dance, music and more from creatives of colour.
Preen
Designers Justin Thornton and Thea Bregazzi promised "a pause in time, a reset" with their seasonless campaign video.
Directed by Russian artist Turkina Faso, it felt like an ode to life in lockdown, featuring models frolicking in Greenwich Park, London, wearing Preen's signature ruffle and sequin-covered dresses. You can watch the video here.
Stephen Jones
In perhaps the best example of how to successfully tailor the fashion week experience for an online audience, milliner to the royals Stephen Jones cast a virtual model in his show.
'Fashion avatar' Noonoouri is a computer generated character who professes to be an intersectional environmental activist and has 359,000 Instagram followers. In video 'Analogue Fairydust' she can be seen modelling a number of Jones's spring/summer 2021 designs.
John Lewis
It wasn't just designer brands that got involved in the online action. Retailer John Lewis offered style mavens the chance to shine in the fashion week spotlight with the #LFWcatwalkchallenge.
The brand asked people to post a video on Instagram strutting their stuff wearing an outfit that brings them joy and chose a number to feature in a compilation video.
In addition, for every post using the hashtag a £5 donation went to British Fashion Council's Foundation Fashion Fund for the Covid Crisis.
Mulberry
Rounding off the three-day event, accessories maker Mulberry hosted a live performance by Lapsley as part of its 'My Local' series.
Singer-songwriter Holly Lapsley Fletcher chatted about how she's been doing lots of cooking during lockdown and appreciating the slower pace of life, then sang four soulful songs while accompanied on piano.
Image: Stephen Jones/YouTube/PA