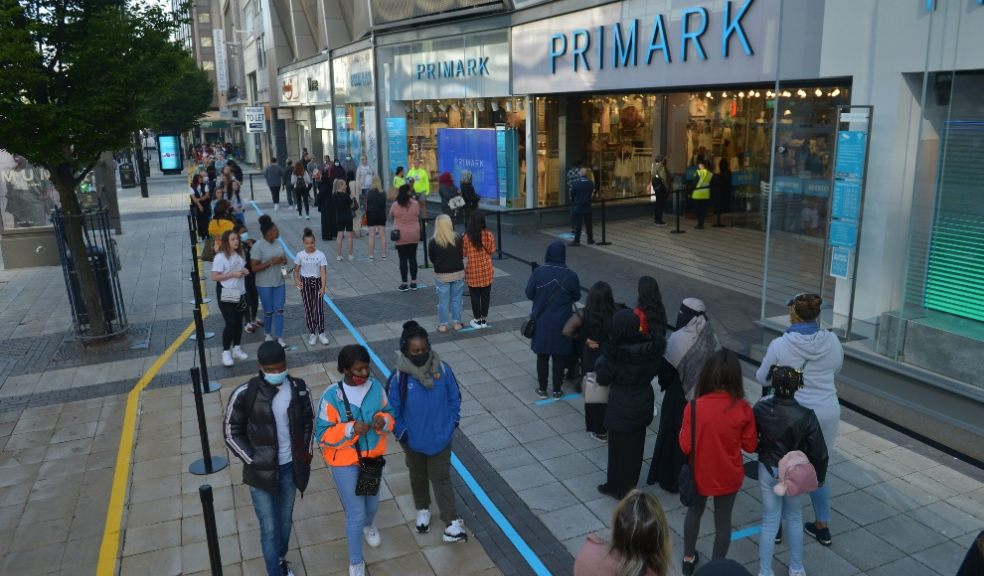 As shops reopen, why are people so desperate to queue?
Judging by the enormous queues snaking around the block, shoppers in England are very excited about the reopening of thousands of non-essential shops after three months.
Some of the longest lines were seen outside Primark branches in Birmingham, Derby, Liverpool and Nottingham today. The budget fashion store is one of the few stores to have no e-commerce whatsoever, so its clothes can be bought in-store only.
A recent YouGov poll found 40% of people were comfortable to go back into such stores, with 41% saying it was the right time for shops to reopen, while 39% called it too soon.
The queues suggest there are plenty of people who are desperate to get back to the physical shopping experience, but what does this say about our attitude to bricks and mortar stores, when online shopping is so easy?
"As humans we are social animals," explains psychologist Dr Maryhan Baker. "Lockdown has forced us all into homes with only our immediate families, with little, or no contact with others. Whilst there will be a natural allure of potentially grabbing an offer today, there will also be a huge need for a sense of normality and social connection."
For many people, the reopening of shops will feel like a step towards what life was like before coronavirus – hence the need to be one of the first in the doors.
The pandemic has caused an economic downturn which Baker says might explain shoppers turning to budget fashion brands, like Primark, for relief.
"Fast fashion is cheap and accessible to most people financially. In these difficult economic times we can all experience that psychological uplift in mood as we visualise ourselves wearing those new clothes, or sporting those new shoes, and how we perceive they will enhance our lives. They take us back to pre-Covid times when life was very different," she says.
We haven't been deprived of shopping altogether though, as many fast fashion brands are easily available to buy at the click of a button online. However, Baker says there's a stark difference between online shopping and the real thing. "Online shopping is devoid of the retail experience which most shoppers value," she explains.
"The ability to touch, feel, and try on products heightens senses as does browsing the store, often stumbling on items which you have seen someone else holding up or trying on."
This isn't the only reason why people waited for hours for Primark stores to open. Explaining the psychology behind the queues, Baker says: "Novelty and scarcity are two key factors which drive human behaviour around shopping. The allure of retail offers today would have triggered a fear of missing out, driving patterns of behaviour we often see when Apple release their new phone or Nike a new shoe."
So it's likely the queues will die down over the next few weeks as being able to go into a shop becomes less of a novelty.
For many people, the pandemic has caused a huge shift in how we think about and consume fashion. Some areas of the industry has taken a pause to consider its impact on the environment, and in turn many of us have been scrutinising the often relentless nature of our shopping habits.
While this potential behavioural shift might seem to be at odds with the queues outside Primark, Baker thinks these lines are "all about a desire for instant gratification", but she ultimately feels there will be a more "lasting change" in people's purchasing habits.
She says: "We will never lose the shopping experience, and the positive uplift that gives us; we will just seek more connection with the retailer we purchase from."
Image: Jacob King/PA