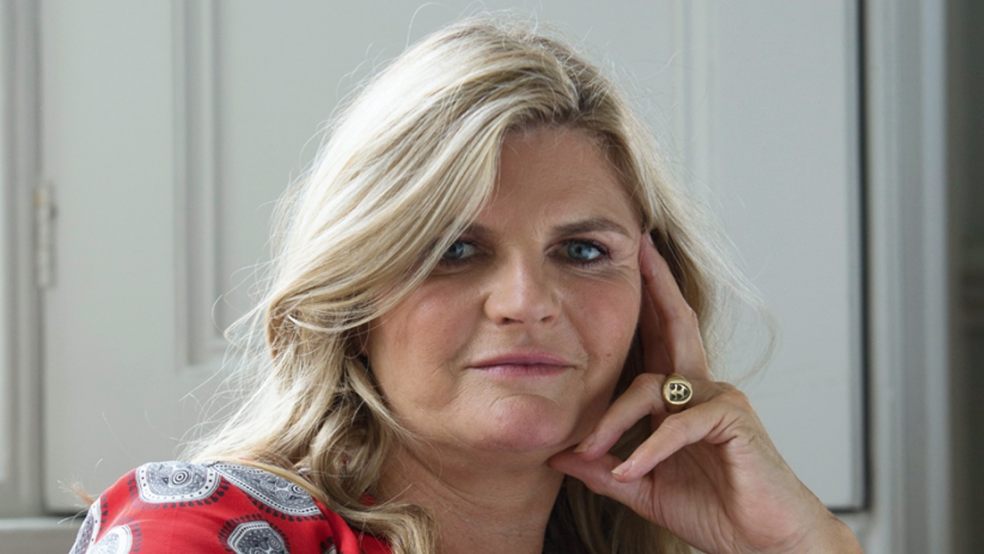 Susannah Constantine on life in her late teens and early 20s
TV fashion guru Susannah Constantine is reminiscing about life in the Eighties and Nineties, when she mixed with royalty, could be spotted at the hottest clubs and went through a rebellious phase – just like the heroine in her latest novel.
She dated Princess Margaret's son Viscount Linley and cricketer Imran Khan (who later became prime minister of Pakistan), enjoyed a glamorous job as a fashion PR and had access to the most exclusive parties and clubs, where drugs were readily available, she recalls.
"When I was in my late teens and early-20s, 80% of my good friends were heroin addicts. Thank God I never did drugs and to this day, I don't know how I managed to bypass that. I was offered it but I was too scared to try. But I liked being in the aura, the reflected rebellion of other people. I was a bit of a parasite in that way."
Constantine, now 58, is still best known as one half of Trinny (Woodall) and Susannah though – the fashion gurus of the Noughties who co-presented BBC's What Not To Wear.
They were forthright, seemingly obsessed with boobs, and dressed everyday women in styles designed to give them confidence.
Brutally straight-talking, they shattered their victims' fashion confidence on camera before building them up again with a sharp jacket, heels, maybe a flowery or fitted dress to show off their figure to its best.
Today, Constantine divides her time between writing novels and interviewing famous faces for her podcast, My Wardrobe Malfunction, which she hopes will resume after lockdown.
Her latest novel, Summer In Mayfair – a sequel to After The Snow – finds her heroine Esme leaving her middle-class home in Scotland in 1979 for the art world of London.
Arriving in the capital, she gets a job in a prestigious art gallery and is taken by her new glamorous friend Suki to the most exclusive bars and clubs in the city where drugs are rife, and introduced to the emerging gay scene. Constantine can relate to the settings.
"I felt more at home in the gay clubs than I did in [famous London club] Annabel's," she recalls. "I felt there was a freedom to be myself, without having to put myself forward sexually or as girlfriend potential. It was just like being with a bunch of girls, but they were guys. I've always felt the most comfortable with my gay friends. All my best male friends are gay."
Celebrity cameos also feature in the novel, including Elton John.
"I know him well. I love the idea of having real people in my books. Andy Warhol's in there – I met him a few times – [late photographer] Robert Mapplethorpe gets a mention, I met him once. But I'm good friends with his brother. And Princess Margaret I knew very well. I like putting real characters in fictitious situations."
Constantine, whose fashion career started when she worked for Armani and Galliano in her 20s, later becoming a fashion writer and clinching her TV partnership with Woodall in the Noughties, which hugely raised her profile.
Yet when the TV bubble burst, Constantine found herself in her own mid-life crisis, which no make-over could make better.
"It was very tough for both of us when it ended. In a sense, we went into mourning. It was our lives, it was like losing a family member. We saw more of each other than we did our families.
"I felt slightly lost, which was when I started to write in earnest and found a sense of purpose and identity. It was about reinvention. Trinny always had a passion to create a make-up line and I always wanted to write. We both followed our true loves."
Today, Constantine is in a much better place. She has just celebrated her silver wedding anniversary with her husband, Danish entrepreneur and businessman Sten Bertelsen, with whom she has three children. They live in a 127-acre country pile in West Sussex, where she writes her novels.
But she has suffered from anxiety for most of her life and battled her own demons, fearing she would go the same way as her mother, who had bipolar disorder.
"I'm very protective of my mental health always and, having seen how it ravaged my mother and by association my father and my sister and I, it's something I wouldn't wish on my worst enemy.
"I had therapy for a long time to accept and understand my mother. I eat healthily and exercise a lot, give myself time to pause and try not to get overwhelmed by things."
The mid-life crisis came when when her TV career started to wane, she recalls. She put on weight, lost her confidence and started to worry about ageing.
"It was tough. It's the only time I've had any sense of vanity and looked at myself and been constantly disappointed by my ageing body, my face. I didn't cope with it very well. Looking back, it was a mid-life crisis.
"I did not want to look in a mirror. I wore the same thing every day because I was frightened to try other things because I knew that awful feeling of being disappointed. I just thought, what's the point?
"I'd never really considered how I looked before that. It was the first time I noticed myself and it was a disappointment. It may have been the menopause but looking back, a lot of men and women get their self-esteem through their work – I certainly do."
Her husband, she says, didn't realise how hard it had hit her.
"Like a lot of women, it's something you keep to yourself because you feel ashamed and I didn't want the person I love and respect most in the world to know that this was how I felt about myself.
"You feel concerned that they are going to feel the same way that you do about yourself. I didn't want to alert him to that. I talked to my daughters about it a bit, and they were like, 'Well, Mum, you are old but you are very good for your age'."
The turning point was when she was asked to do a fitness challenge for Sport Relief in 2018, when she and other celebrities embarked on a gruelling regime to get active again.
Taking on challenges outside her comfort zone helps her mental health, she says. "I've never been frightened of failure and pushing myself takes away the anxiety, weirdly. I like to push myself to do things that frighten me."
In recent years, she has also pushed herself into reality TV. She chuckles at the fact she was the first to be voted off Strictly Come Dancing in 2018 and had a similar fate in the 2015 series of I'm A Celebrity – but she sees the positive in everything.
"I loved every single thing about Strictly, apart from the dancing. Anton (du Beke) has become a really good friend and Stacey Dooley and I have become really close.
"It was amazing in every way, apart from the dancing, which I hated. I was so bad, I was never going to be good. I was like the love child of an ironing board and a gorilla."
She has several more books on the cards, a live tour of her podcast and a TV project coming up, once lockdown is over. But she won't be returning to fashion, she says.
"I'm not interested in clothes, per se, I'm interested in what clothes can do for people."
Summer In Mayfair by Susannah Constantine is published by HQ on June 25, priced £8.99.
Image: HarperCollins/PA