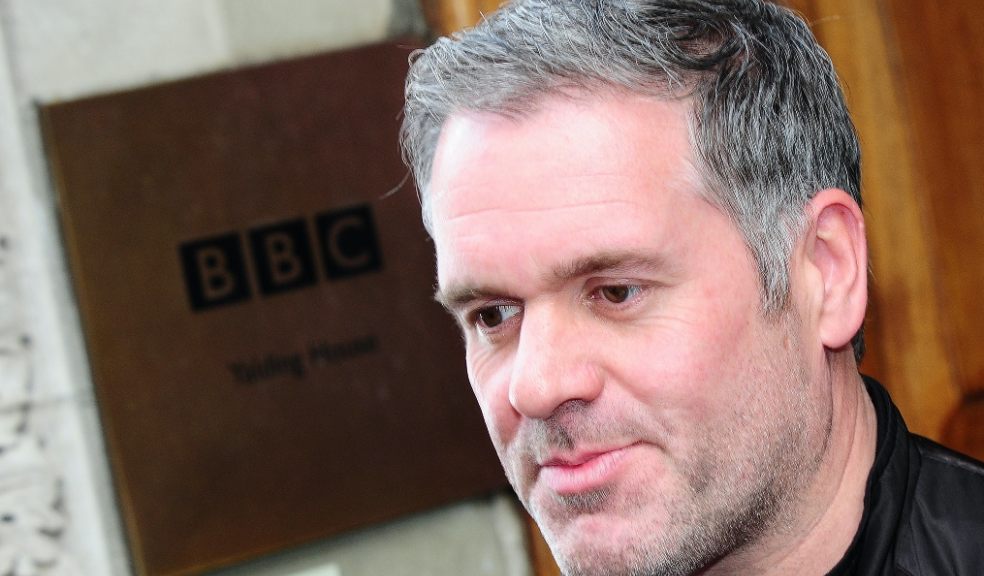 Chris Moyles on his younger self
From the age of 11, Chris Moyles was destined for the radio.
He recalls sitting in the hallway of his childhood home, perched atop a set of Yellow Pages to reach the family phone, calling into a competition at his local station. He answered the question incorrectly, and was immediately cut off, but the fact he'd been on air delighted him.
"I was fascinated by the fact someone could just be in a room talking, and so many people would be listening," he says, "from that moment I was hooked, in love with this strange medium of radio."
Fast forward four decades, three of them as radio royalty, and Moyles is still setting his alarm for 4.30am six days a week, and trudging to a West London studio to present the breakfast slot for Xfm rebrand Radio X.
He made the journey through the whole of lockdown, getting the full ghost town experience on every commute. "It was very, very weird," he says, "like Christmas Day every day, extremely quiet."
For Moyles, 46, lockdown has been characterised by missed opportunities, and a steady diet of keep calm and carry on. "I've been lucky," he says, "we've got a nice home, and I live with my girlfriend and two kittens, so we don't have any homeschooling to do. I tried with the kittens, but they're just not interested."
"One of the worst things for me is that it's shown I'm a fairly rubbish person. I had a list of things I was going to do, like learn a new language and play the guitar, and I've not done any of it. It's the one time most of us could do something we've never done before, and most of us haven't bothered."
It might not have been on his list, but Moyles has teamed up with Currys PC World to spend a day as a resident expert, helping customers select top tech from sound systems to TVs.
"I'm extremely nerdy," he says, "I've spent a lot of lockdown resetting routers and changing passwords and trying to rewire things. I'm still not sure how TikTok works, which makes me feel old, but otherwise I'm good."
Moyles is still a household name, even though his current role could never match the heady highs of shows gone by. The voice of the morning for a whole generation, he fronted the flagship BBC breakfast show on Radio One for nearly nine years, and of the programme's 16 presenters, he remains by far its longest serving.
Often described as 'maverick' and 'controversial', his stream of consciousness style made for engaging listening, even if it meant occasional brushes with Ofcom. "When I first joined Radio One, I would switch the mic on and whatever was in my head came out," he recalls. "I've talked about literally everything on radio in my time, and I used to be very proud of it."
His ratings were exemplary, his success unquestionable, but his no-holds-barred bluntness did not meet with universal approval. "This may come as a surprise," he says, evidently aware that it would not, "but many people weren't a fan of me back in the day."
"We'd get written about a lot in certain newspapers that were read by people that don't listen to Radio One, and I would sit there and say, 'If they don't like what we're doing, good, it's not aimed at them'."
Radio One is not an easy place to feel established, and despite his longevity the programme still felt like a revolving door. "It's never really yours," he says, "you just make it yours. It's like renting a house – eventually you're going to move out and someone's going to move in and change the curtains."
Moyles deliberately kept his shows loose, but behind the snappy spontaneity lay a sharp work ethic, and a fierce desire to succeed. "It's like any kind of light-hearted work," he says, "a lot of serious work goes into it, and for all the bravado, we all worked really hard on that show.
"When you get that show, everybody wants to chop you down. When the figures go up they say it won't last, and when you get a year under your belt they start saying, 'Is it time for a change?' You're constantly having to fight to keep it, and ignore all the negativity, because at the end of the day, if people didn't like it, they wouldn't listen."
He seems faintly wistful at being nearer the end of his career than the beginning, and despite his former lack of filter, comes across as guarded but earnest, thoughtful, even philosophical.
Regrets, he's had a few, but that's not to say he would necessarily alter anything. "There's certainly jokes or interviews I wouldn't do now, but everything I've done has led me to today. I wouldn't advise my younger self, because I wouldn't have listened – I was too hungry, and too confident."
There's only one thing he says he would change: "If I could go back in time, I would tell myself to eat fewer pies, and maybe run a bit more."
For Moyles, mistakes are learning experiences, but some of his early interviews now make him cringe. "We used to have big guests come on the show," he recalls, "and we would treat it like they were coming into our living room. They would sit alongside us and we'd just chat s***.
"We had Ed Sheeran on and I didn't really ask him anything about song-writing or music. Back in the day the show was all about me, so why would I talk to Ed Sheeran when he knew how great I was? That's where I was back then, embarrassingly, now I'm a lot more interested in people."
That certainly comes across. During our chat it's easy to forget exactly who is doing the interview, and by the time we ring off, he's asked me with seemingly genuine interest about my lockdown hobbies, and views on Stanley Kubrick.
By the end of his tenure, Moyles was considered too old for the Radio One audience, but he arrived at the station at the tender age of 23. After doing the rounds of regional radio, he was suddenly surrounded by some of broadcasting's biggest names, and Simon Mayo and Mark Radcliffe both earn admiring name-checks.
Even his fiercest critics cannot question his skill as a broadcaster, or his sincere love of radio. "You've got to love it when you're getting up at that stupid hour of the day," he says. "It'll be my 30th anniversary in September, of being on the radio. Where's my knighthood – even just for getting up early? Anybody who gets up before 5.15am should get some sort of award from the Queen."
Chris Moyles featured alongside Currys PC World colleagues as a ShopLive 'expert', helping customers get what they need safely from the comfort of their homes via live video link. Customers can instantly connect to an in-store expert at Currys.co.uk/ShopLive.
Image: Ian West/PA