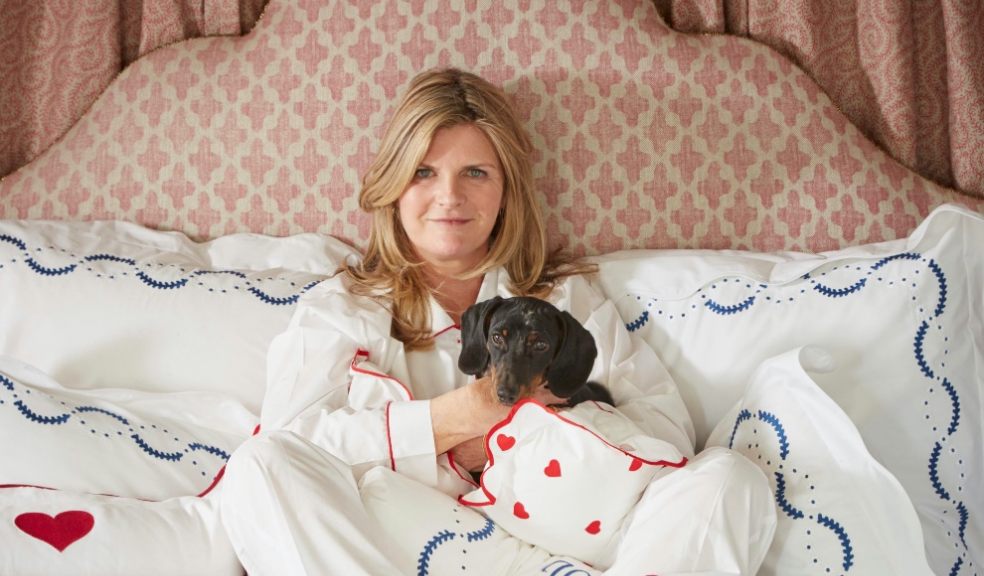 Susannah Constantine says her dress straps broke in front of Prince Philip
Fashion guru and writer Susannah Constantine, who started her career working for designers including Giorgio Armani and John Galliano before branching into TV, still has a wardrobe full of designer labels.
The TV fashionista, who used to date Viscount Linley (now the second Earl of Snowdon) and later went out with Pakistani cricketer Imran Khan, became famous in the Nineties with the hit makeover show What Not To Wear, which she presented with her friend Trinny Woodall. In recent years she's appeared on I'm A Celebrity … Get Me Out Of Here! and Strictly Come Dancing.
She and her husband of 25 years, Danish entrepreneur and businessman Sten Bertelsen, live in a country mansion set in 127 acres in West Sussex with their three children, Joe, Esme and Cece.
As well as TV appearances, Constantine, 58, interviews celebrities on her podcast My Wardrobe Malfunction, and writes novels, the latest of which, Summer In Mayfair, has just been published.
What's the worst wardrobe malfunction you've had over the years?
"The worst was when I was at Windsor Castle for Prince Edward's 21st [birthday] and I was sitting next to Prince Philip when the straps on my dress broke and my boobs fell out. Then a butler came with some pins and fixed me up again.
"It was mortifying but no-one really seemed to notice. That was the inspiration for my podcast. Philip said, 'I think you might need a bit of help with your dress'. He was very gentlemanly and didn't make a big fuss about it."
You used to work for fashion designers. What was that like?
"That for me was much more about the production side than the end result. Watching the pattern cutters and how things were cut, especially with John Galliano when things were cut on the bias and how the different pleating was created from scratch in the studio, and the different zips and hemlines, I found the whole creation fascinating and learned a lot."
How important is fashion to you now?
"I would say four out of 10. I've got so many other things in my life that I don't have the need to be quite fashionable, although I do when I go to London. I love clothes but they are not the most important things in my life."
Do you buy many clothes?
"I don't buy so much any more. I look at fashion, but it's become quite androgynous and doesn't suit my body shape at all."
What style suits you?
"Very simple tailoring and block colours. The best colours for me are navy and red."
What wouldn't you be seen dead in?
"A polo neck."
What's in your wardrobe?
"I have a lot of designer pieces, none of which I can fit into anymore, but I'm keeping them for my daughters. I have quite a few by L'Wren Scott, Prada, Dolce & Gabbana, Bottega, Saint Laurent."
Do you have any style rules to live by?
"I don't wear skirts anymore because I think they look frumpy on older women. I will never show too much cleavage and I'll never show my arms."
Do you ever feel regret at the way you and Trinny used to talk to your fashion victims on What Not To Wear?
"No, never. We never criticised women for who they were or how they looked. It was the clothes we were criticising. Ask any of the women we worked with and not one of them would say they had a bad experience.
"I think What Not To Wear could be revisited but we wouldn't be touching boobs – although that was never intentional, it was just a quick route to finding out the size of someone's breasts! There's definitely a place for it and a lot of people miss that show."
Do you have a favourite outfit?
"I love jeans – beautiful, tailored wide-leg jeans which are very smart and I'll wear those with a nice shirt. That's my go-to outfit.
"I much prefer summer fashion because you don't have to think about what tights to wear. I wear more dresses in the summer."
Summer In Mayfair by Susannah Constantine is published by HQ on June 25, priced £8.99 paperback.
Image: HarperCollins/PA