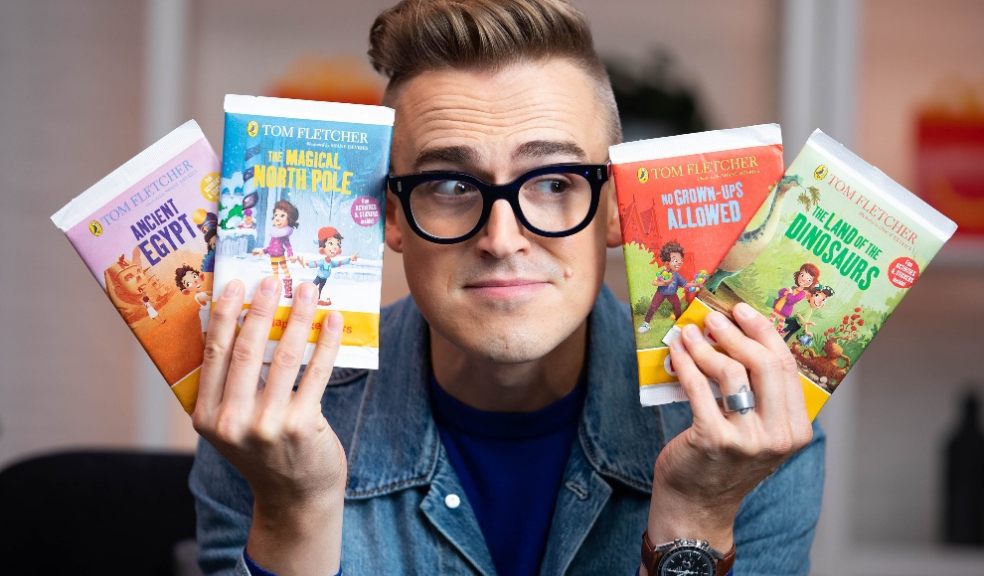 Tom Fletcher makes his debut as McDonald's Happy Readers author
Following in the footsteps of Roald Dahl and David Walliams, best-selling children's author and McFly front-man Tom Fletcher is the new Happy Readers author for McDonald's UK and Ireland, with an exclusive range of story books available for families to collect in McDonald's Happy Meals.
The first four of eight exclusively written stories will be available from Wednesday October 7th in all Happy Meals as part of the ongoing Book or Toy initiative, which allows families to choose between a book or a toy with every Happy Meal™. As a long-time supporter of family reading and children's literacy, McDonald's UK has given away 93 million books with Happy Meals since its launch back in 2014.
Known for his unique storytelling energy, Tom Fletcher has created eight brand-new stories in partnership with McDonald's Happy Meal and the National Literacy Trust. Released on Wednesday are: The Land of the Dinosaurs, No Grown-Ups Allowed, Ancient Egypt and The Magical North Pole.
As an accomplished children's author, Tom shares McDonald's commitment to support families with reading time and has been the Happy Readers ambassador since March. As well as encouraging children's literacy, the programme also supports McDonald's sustainability journey, giving families the ability to opt out of plastic toys. Each of the storybooks is produced and packaged using 100% recyclable material.
Tom Fletcher comments "I'm delighted to release these new stories, written exclusively for McDonald's Happy Readers programme. It is such a fantastic way to inspire children to enjoy reading and I am incredibly proud to be a part of this initiative. Families choosing a book with their Happy Meal this October will receive one of my new stories, following the adventures of Izzy, her cousin Benjy and their magical time-travelling van - with the odd appearance from some of my other favourite characters too."

Recent research* found that almost a quarter (23%) admit they can only read to their children once a week or less. To help parents encourage their child to read more often, Tom Fletcher and McDonald's will host a 'Happy Readers Holiday Story Club' during October Half Term. Families will be able to access fun video content, featuring Tom reading two of his new stories over the course of the half-term week, from Monday 26th October. 
Michelle Graham-Clare, Vice President Food and Marketing at McDonald's UK and Ireland comments, "We are committed to helping families enjoy reading together and are proud to announce Tom Fletcher as the latest author as part of our Happy Readers campaign. Tom is one of the UK's most exciting children's authors and much-loved by children nationwide so we're delighted that his new books will be available in Happy Meals to capture the imaginations of young minds this autumn."
To access the 'Happy Readers Holiday Story Club', parents should visit the McDonald's UK Hub (https://www.mcdonalds.co.uk/family) where a new reading will be uploaded every day at 10am.
Jonathan Douglas, Chief Executive of the National Literacy Trust, who are long-time supporters of the Happy Readers scheme, said: "We're delighted to be supporting McDonald's Happy Readers  and have no doubt that Tom Fletcher's magical story books will inspire children's reading and imaginations. The importance of books and reading cannot be underestimated, and with such significant disruption to children's literacy and learning earlier this year, it is more important than ever to ensure that children have access to books that will enable them to thrive."