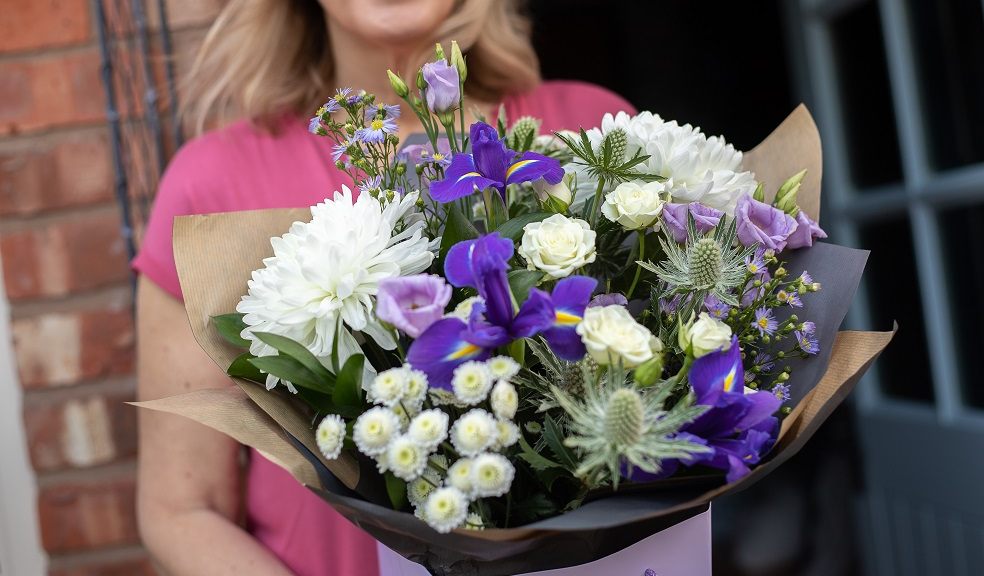 Seasonal Flowers to Boost Morale and Mental Wellbeing
There is no doubt that this year has been harder than most, full of uncertainty, anxiety and tricky times. Today, more than ever we need to be with people we care about and yet that is the very thing that we are not allowed to do. Social connection is vital for mental and physical health and if there is anything this pandemic has taught us, is it that we need to find new ways to regain this all important link that we once took for granted. This is where flowers come in. 
At the very least a bunch of fragrant blooms brings joy and lifts spirits and now, more than ever, this is imperative. With celebrations cancelled and special occasions passing unmarked, flowers have become an ever more powerful way to send a message. Many flowers carry meaning or have a strong symbolism, and can even have really positive effects on well being, but even at the very basic level they bring a reminder of the simple pleasures in life. Looks like those hippy chicks in the 1960s who were big into 'flower power' were actually on to something!
It is a hard pill to swallow accepting that we are going to be stuck with this partial local down for some time to come, but on the bright side, we have more opportunity to send flowers to friends and family. Our guide to buying seasonal bouquets will hopefully not only inspire you but will also help you over the next few months when choosing which stems will make the best gift. 
Introduction
We are so lucky in Britain when it comes to floral options. Our fertile lands and seasonal variations in weather mean that, even in winter, we have lots of choice when we are getting creative with bouquets. Buying online with a company that outsources to the local florists who use British suppliers also guarantees that you are getting quality while supporting the economy, both locally and nationally. 
Winter
Winter is fast approaching, and while we might not always think to send flowers in this season, why not make this year an exception? There is a whole host of beautiful floral options for a winter display and the combination of ivory hues, antique whites and striking reds creates classic warm and welcoming bouquets.  For statuesque elegance, go for the Oriental Lily or the trendy French Tulip. Both these flowers need very little complementary foliage and make fabulous centrepieces for festive tables. Accessorising with holly berries and Amaryllis adds festive appeal but if you prefer a daintier spray, add a few stems of Astilbe or the charming Camellia which comes in lots of colours.
Having flowers around the home is believed to have an increasing effect on positive energy and red blooms are especially powerful. This is another bonus of sending flowers at this time of year when energy can often wane and we all need a little pick me up!
Top Tips
Winter is a wonderful season for us florists to get creative. There are so many natural accessories that add instant rustic appeal to a display. Pine cones and pine leaves are an obvious choice, and are especially attractive because of their deep, woodland scent, but Rosemary is another lovely sprig to go for. If heady fragrances are not what you want in your winter bouquet, try the delicate perfumed Jasmine, another classic at this time of year.
You can't really talk about festive florals without mentioning the Poinsettia. Its timeless appeal makes it a safe bet to send as a gift over Christmas, especially this year when big family gatherings are not on the agenda. Gorgeous velvety leaves in vibrant red hues are certainly bound to bring joy and positive vibes.
Spring
Spring is synonymous with new beginnings and, as winter melts away, the hedgerows become a rainbow of wispy grasses and delicate colours once more. It is a time of year when people often need a 'pick me up' after the long months of short days, and sending flowers can give someone just that. Flowers look beautiful and smell good and these two sensory effects have been proven to have a significant effect on improving mood while giving an emotional boost. 
The traditional options this season are Tulips and Daffodils, but Freesias with their lemony perfume and Hyacinth with its fresh scent are also really beautiful in springtime displays. Floral perfumes not only smell lovely but they are well known to have relaxing effects too. Instead of sending that stressed out person in your life some bath salts or a lavender pillow, send them flowers.
Striking shapes and vivid colours abound in spring and the different tones of Ranunculus and the pastel hues of Muscari are excellent choices.
Top Tips
Given the recent update on Covid related rules, it looks like next Easter we could still be living with restrictions, so why not convey that all important message of connection to the ones you may be missing by sending them a beautiful bouquet?
Iris takes its name from the Greek word for rainbow so sending a bunch that includes this pretty flower is particularly poignant at this time. Other springtime blossoms also bear strong symbolism and our favourite is the delicate Spray Chrysanthemum. Despite its simple dasiy-like appearance, it is laden with a powerful meaning that represents new beginnings, purity and loyalty. 
Summer
Summer is a dream for every artistic florist. Bright days linger into hazy evenings and gentle breezes carry the fresh fragrances of the beautiful blossoms that burst into life at this time of year. This season is synonymous with weddings, but in 2020 certainly and possibly 2021, the concept of the big wedding has fallen by the wayside. Despite this, you can still send flowers to celebrate the day, and remind the happy couple that although you can't join them, you are still there in spirit.
The quintessential English Rose comes in a rainbow of colours and there is no denying the appeal of its fresh summery fragrance. They have the added benefit of lasting a while in a bouquet, as do Lilies that have a more unique scent. Sunflowers are perfect for summer with their sublime aesthetic and hippy chick appeal, but for true understated beauty, Alstroemeria comes top of the list.
Top Tips
Celebrations and occasions are often organised for the summer months and this is a great time to send flowers that have come to have a particular meaning or association. We love that Sunflowers are associated with happiness (they almost look like they are smiling after all)! Stocks are another joyful option. They represent lasting beauty, bonds of affection and a happy life. Sometimes when there are no words, flowers say it all! 
Autumn
Who doesn't love the rich colours and varied textures of autumn? Crisp bright days reflect the golden light that spreads its low rays through vibrant woodland and across willowy fields bordered by wandering blackberry bushes. Autumnal blooms, such as the elegant Carnation are given a rustic feel by adding dark verdant foliage but if you want to stick with a more minimal modern feel, the Anthurium is a favourite. Two or three of these majestic stems need little accompaniment.
Asters and Chrysanthemums come into their own in the latter part of the year and their floral scents bring us a welcome reminder of sunnier days. Dahlias and Trailing Amaranthus are impressive choices, as is the Antique Rose. For a flower with no  fragrance, the delightful Lisianthus, with its delicate soft petals, is perfect.
Top Tips
This season sees drier weather and less humidity and, as we are too familiar with, the arrival of autumn can bring coughs and colds. If you want to keep these at bay, flowers can help. They add moisture to the air and can help alleviate dry skin, a dry throat and a dry cough. In fact, having a few strategically placed vases around your home, has been proven to be effective in fighting the common cold.
Another fabulous season for natural accessories, autumnal additions include twigs, pine cones, fruit and even some vegetables. Throw caution to the wind and get the artistic juices flowing and your floral displays will be lifted to new heights.
Hopefully you are now convinced that flowers are more than just a bunch of blooms, and every season brings its own special varieties. No matter what you want to say to a friend or family member, flowers will say it ten times louder than words, and now, with our top suggestions for what to buy when, you will be more confident about the choices you make.