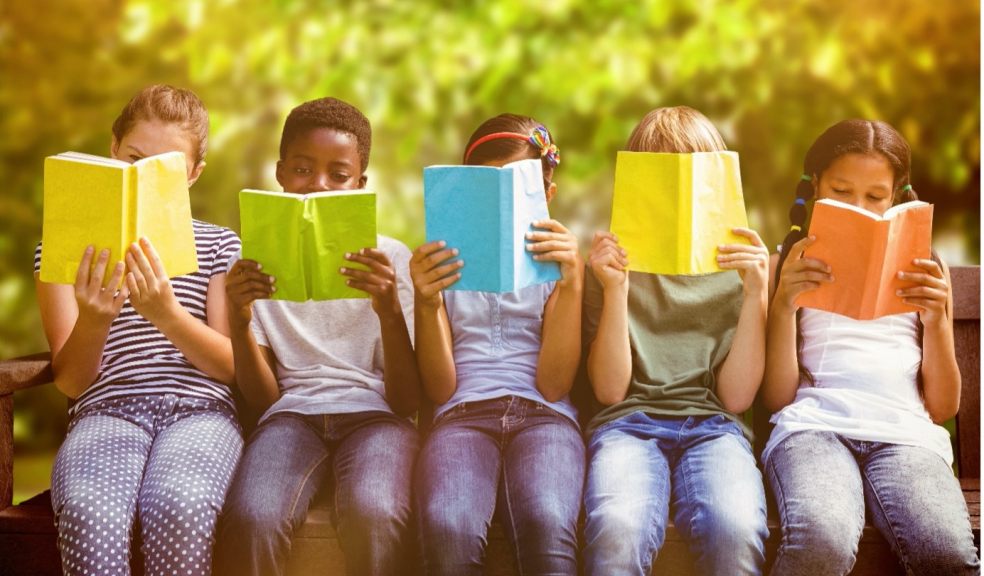 Top 6 books to boost your family's reading
Whether it's reading their favourite book together with your little one, or allowing them to settle down in a cosy corner to read alone, there is so much pleasure to gain from reading a good book. Not only is it enjoyable, but reading can also be highly beneficial and educational for all the family.
But with World Book Day over for another year, and several disruptions to school life already experienced, you may be lacking in inspiration for the next book to dust off the shelf. So, let us take you through our top picks of the best children's books – all the way from baby to teen.
Baby Books
If you're looking for nursery books for your child, then you should consider stories that are interactive or feature lots of pictures that they can look at whilst you read aloud to them.
Janet and Allan Ahlberg – Each Peach Pear Plum
A best-selling book from the creative duo, the story of Each Peach Pear Plum is a great introduction to the traditional fairy-tale characters. The detailed pictures alongside a simple tale, encourage your child to engage with the book and try to find the characters on the page. The rhyming nature of the text also makes it enjoyable to listen to, even for the youngest of ears.
Eric Hill – Where's Spot?
The best part of this famous picture book, is its interactivity. Where's Spot? features flaps throughout, so that your child can lift them as they help Mother dog to find her puppy, Spot. Beautiful illustrations also make it a great book for your child to look at whilst you read it aloud to them.
Pre-school Books
From the ages two to five, the books that a child are likely to find most interesting, are those that feature animals or transport, and which place them at the centre of the story. Through a book they can explore different objects and environments, just as they begin to explore more of their surroundings in real life.
Eric Carle - The Very Hungry Caterpillar
Eric Carle's work involves a range of animals, who's personalities we discover through the story. When reading The Very Hungry Caterpillar, your child will encounter different types of food that they begin to learn and read the correct words for, as well as enjoy the colourful drawings. The clear and simple language also makes this book a good introduction to learning to read.
Michael Rosen - We're Going on a Bear Hunt
This classic story from Michael Rosen will get the whole family chanting aloud together. An exciting journey lies ahead, as you join the character's search for a bear. We're Going on a Bear Hunt has all the elements to explore musicality with your child, with the rhythm and repetition also encouraging them to read along. You can also delve into creating sounds of different environments, as the story takes place through grass, rivers and squelching mud.
Books for Ages 11+
Books are a great way for young adults to understand their feelings, learning how to deal with issues such as stress or anxiety, or discover what they strive to be when they grow up. Reading can also help improve their social skills, culture awareness, writing ability and range of vocabulary. Books that cover a range of these topics as well as a gripping story can be highly beneficial to teens.
J. K. Rowling – Harry Potter
Allow your child to enter the wizarding world of Harry Potter and his friends, as they begin their journey at Hogwarts School of Witchcraft and Wizardry and have to face the evils of dark magic. The magical themes make for an invigorating and fantastical story, but it's the other issues that the characters have to face, such as growing up, dealing with what's right and wrong, and budding romances, that make this such a great and educational read for young adults.
Philip Pullman – His Dark Materials
This trilogy of epic stories involves parallel universes, witches and armoured, talking polar bears. The fantasy theme is well and truly present here, and with the characters of Lyra and Will of a similar age to your own young adult, they may well find their coming-of-age story quite relatable. Not only do the three books (Northern Lights, The Subtle Knife and The Amber Spyglass) narrate an exciting adventure, they also touch on ideas derived from physics, philosophy and theology – all of which will expand the mind of your teen reader.