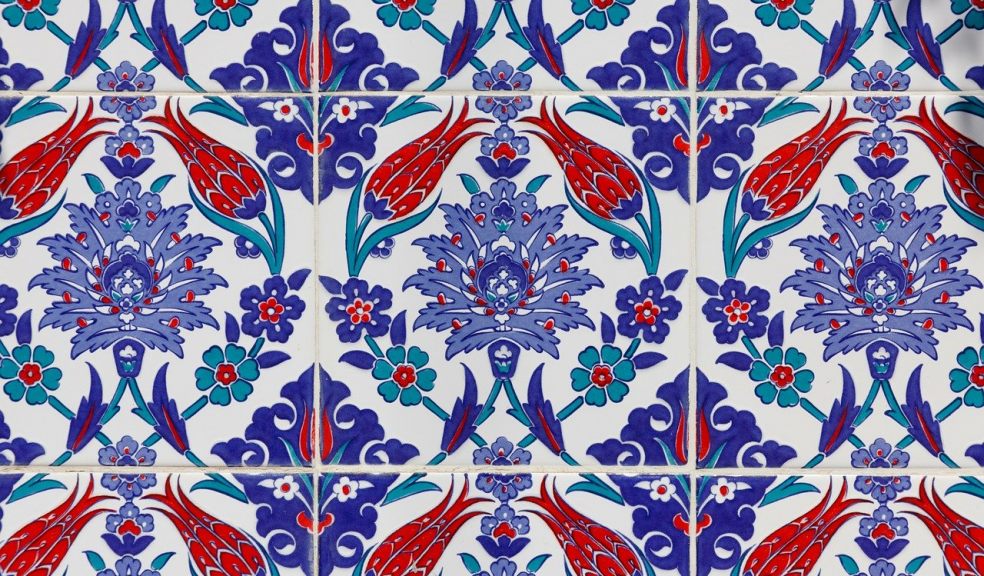 Brighten up your home with tiles
Tile-making is a proud artistic tradition with an ancient history, stretching all the way to some of the earliest buildings in ancient Egypt and Mesopotamia (the area between the Tigris and Euphrates rivers, corresponding to parts of modern-day Iraq, Kuwait, Turkey, and Syria). Whether patterned or uniform, brightly coloured or understated, tiles are a great way to brighten up your living space. Here are some of the different types of tiles:
İznik tiles
İznik is a town in Western Turkey best known for its centuries-old pottery-making tradition. The use of wall tiles became popular in modern-day Turkey and in other countries with a large Muslim population in the ninth century CE, and the tile-making tradition is continued in places such as İznik to this day. The style of pottery produced in İznik changed over time, but in general terms, İznik tiles are known for the prevalence of blue and white colours and floral motifs.
Delftware
The West Asian technique of glazing tiles with lead oxide and tin oxide spread to Europe in the Middle Ages, and tin-glazed tiles became known as 'delftware' in England and Holland and as 'maiolica' (sometimes also spelled 'majolica') in Italy. These beautifully decorated tiles were initially used to decorate the floor of churches, but in time they also started to be used on the floors and walls of stately homes, often around fireplaces. A beautiful example can be seen at Osborne House on the Isle of Wight. Delftware became popular again in the twentieth century with the emergence of the Art Nouveau and Art Deco styles, which saw brightly coloured glazed tiles being used on the exterior of both public and private buildings, such as the interior of Baker Street Station and many other Underground stations in London. Glazed tiles are still found in architecture, and single glazed tiles can also be used as coasters, placemats, or simply as decorative objects.
Unglazed tiles
Of course, not all tiles are glazed and colourful: stone or wood-look tiles such as those from Tiles Guiseley, which are often unglazed, will give your home a simple, understated look. For a rustic feel, you might want to consider using terracotta tiles, which are tough-wearing and therefore particularly suited to parts of your building where you might want to be able to wear outdoor footwear, such as patios, conservatories, and terraces. You could even place a couple of rows of terracotta tiles in your garden to form a path; grooved ones might be the best choice to minimise slippages in the rain. Terracotta is also a popular choice for roof tiles, and it can even be used to make eco-friendly cladding.
Mix and match: accent tiles
Overwhelmed by the range of tiles out there? Unsure which ones to choose? Don't worry! You don't need to settle on just one design. As a matter of fact, some of the most striking uses of tiles in both interior and exterior design involve using fairly plain tiles on the majority of the surface, and interspersing them with a few more colourful tiles, perhaps painted with some intricate pattern. You can even combine glazed and unglazed tiles if you like. When it comes to tiling, the possibilities are truly endless!