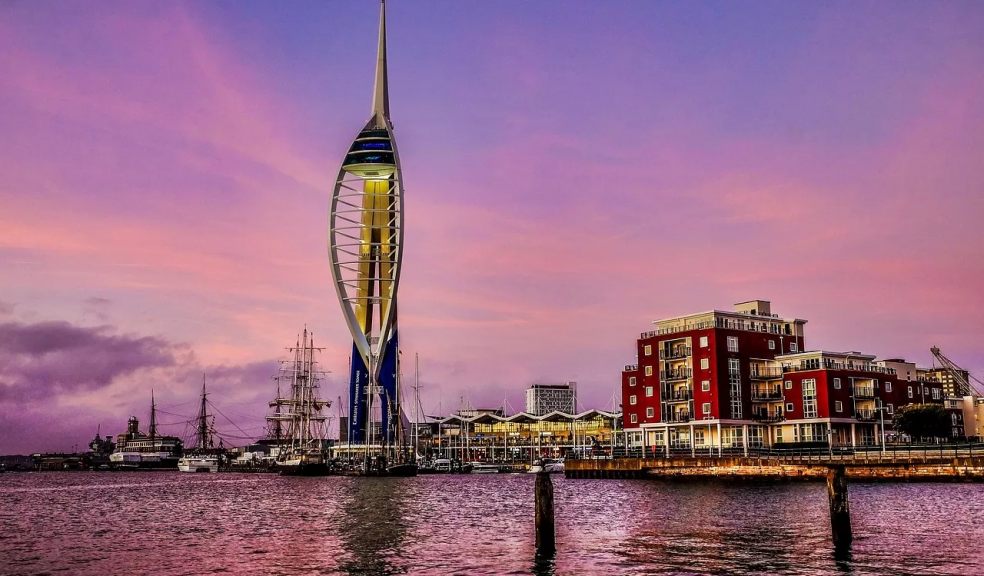 Portsmouth Adventures: 6 Unmissable Winter Activities
Well known for its history, culture, and nautical heritage, Portsmouth is set to turn into a winter wonderland as the chilly season approaches. With the plummeting temperatures and the nights drawing in, there's something for everyone to enjoy in this fantastic city. 
Whether you want to climb to new heights in the iconic Spinnaker Tower, imagine what life was like for the HMS Victory crew at sea or step back in time in one of the country's best Escape Rooms, you won't go home disappointed!
Are you ready for a Portsmouth adventure? Here are 6 unmissable winter activities for the whole family to enjoy:
Hayling Wonderland at Funland
Bigger, better, and jam-packed with more fun than ever before, the elves at Funland have been busy creating a spectacular wonderland, and the whole family's invited! 
On arrival, you will be greeted by Santa's elves, who will take you on your journey through Hayling Island's breathtaking Wonderland. Then you will step into Santa's Grotto and meet the man himself! Once your children have received their early Christmas present, it's all aboard the Funland Express! 
With something for everyone to enjoy, from a festive tipple at the polar bar for grownups to the fun, adrenaline-packed Kidz Kingdom play area, this is one adventure you simply can't miss. 
Make your escape!
Have you ever wondered what it would be like to uncover Cold War secrets? Rescue a duchess from a fateful voyage at sea? Or, become a Peaky Blinder for the evening and prevent a riot in 1920s Portsmouth? Well, now you can experience all that and more as you take on one of the UK's top-rated Escape Rooms in Portsmouth city centre at Exciting Escapes.  
As you race against the clock to make your escape, you and your team will take on challenging puzzles, crack codes, and clues, all while you navigate a bygone era before your time runs out. 
What's more, you can become the hero of the story. With six unique live immersive games to choose from, you will have an unforgettable adventure through the decades. Are you up for the challenge?
Traditional storytelling & firelit festivities
Enjoy a festive afternoon or evening of family-friendly Winter Solstice storytelling at the monumental Butser Ancient Farm. Sit back and relax with a hot chocolate or a dram of mead from the bar as you cosy up around the roaring fire with your loved ones in the ancient roundhouse.
Soak up the atmosphere and the anticipation of a good tale, and make this winter season one to remember! With enchanting events throughout the year, including a Winter Solstice celebration and the stories of the ancient Kings of the Winter Woodland event, you'll be talking about your Iron Age adventures for years to come. 
Have breakfast with Santa
Surround yourself with breathtaking views of Portsmouth Harbour, the city, the Solent, and beyond, all while you tuck into a mouthwatering brunch with, you've guessed it, the big man himself, Santa Claus! Join him and his merry band of elves in the Spinnaker Kitchen and Bar for some festive fun akin to the North Pole! 
Set in the spectacular Spinnaker Tower, the whole family can enjoy their continental-style breakfast overlooking the bustling harbour hosted by Santa. Children will love sharing their Christmas wish list and writing their letters before popping it into the post box and chatting to their Christmas hero. 
With a keepsake souvenir photo and an early Christmas present to be snapped up, make this a pre-Christmas treat to remember!
Visit the Historic Dockyard
While the finest Christmas market on the south coast may not be returning for 2021, there's plenty of unmissable fun to be had at Portsmouth's Historic Dockyard this winter:
Discover Tudor naval secrets aboard Henry VIII's prize flagship, The Mary Rose: Sunk during the Battle of the Solent in 1545, with the king watching from nearby Southsea Castle, you can walk in the footsteps of her crew and fully immerse yourself in the powerful story of her fateful voyage. She is the only ship of her kind on display anywhere in the world!
Step aboard the Royal Navy's most famous warship, HMS Victory: Nelson may not have fared well at the Battle of Trafalgar, but his iconic ship has stood the test of time and is now one of the finest examples of nautical history on show in the British Isles. See history come alive as you follow in Nelson's steps and get a taste of what life was like during the height of 18th and 19th-century seafaring
Horrible Histories Pirates Experience: Ahoy! Avast ye sea dogs and cast ye plunder aside; it's time to lace up your buccaneer boots and set sail for an epic adventure from the best-selling Horrible Histories series. Follow a bossy pirate parrot and his woebegone shipmate as you wade through the gruesome facts of days gone by. From terrible tactics and deadly weapons to lively illustrations that bring the stories of putrid pirates to life, fans of the books and show will have a rip-roaring adventure! 
If you want to plunge further into naval history, make sure you check out HMS Warrior, visit the National Museum of the Royal Navy and get unrivalled views of Britain's modern frigate, destroyers, and helicopter carriers on one of the city's spectacular Harbour Tours. 
Laser Quest battle
Sheltering away from icy rain and plummeting temperatures doesn't have to be boring! Instead, battle it out against your friends and family in the exhilarating and interactive Laser Quest Portsmouth. Built over two floors, you'll fight it out in a pirate stronghold in a hijacked shipping container. 
With a heart-pounding soundtrack to keep you on your toes, dynamic lighting effects, and billowing smoke to add to the drama, this is a laser tag experience you'll never forget. Perfect for ages 6+ and catering for teams of 6 and more, this is the perfect winter activity to get the blood pumping!
Are you ready to have an adventure in Portsmouth this winter? From dining with Santa to stepping back through the ages, which unmissable activity will you choose?