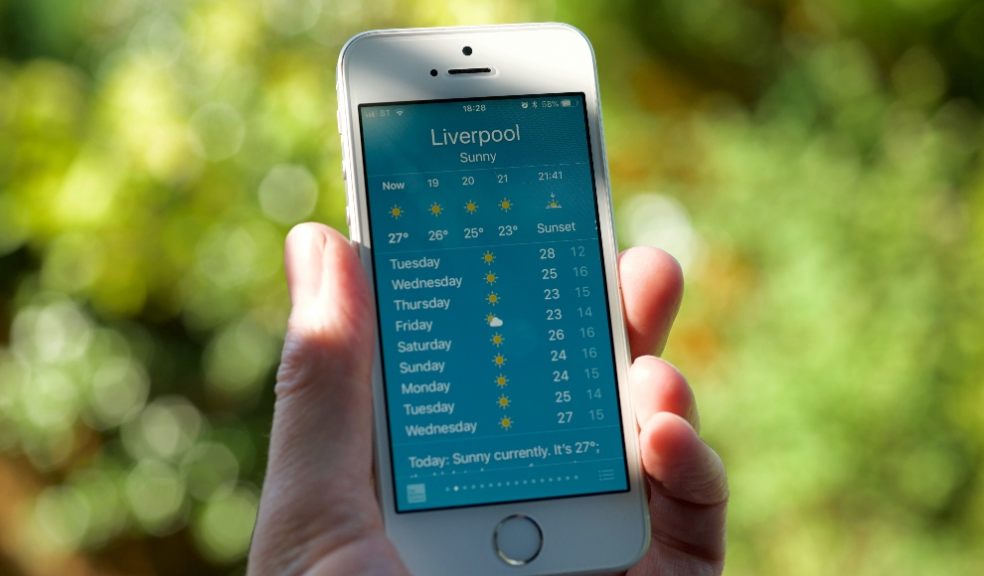 Research Reveals the UK's Favourite Weather App
The UK's unpredictable weather leaves people questioning whether they need to wear a coat, carry an umbrella or pack their sunglasses when they leave the house. With 11 million monthly searches across the UK for 'weather tomorrow', mobile phone retailer Fonehouse has researched to reveal the top ten weather apps.
By analysing the weather apps available on both Google Play Store and the Apple App store, each app was scored against five different factors - average ratings, average reviews, if the app had weather warnings, how many days in advance the forecast showed and if the app had ads. Calculating each app's total score out of sixty, the weather apps were then ranked highest to lowest to reveal the top ten.
Yahoo! Weather
Taking the top spot is the visually pleasing Yahoo! Weather app. On the app, you can see accurate hourly, 5-day and 10-day forecasts so you can plan in advance, and you will be notified if there is a weather warning. The app is also completely ad free. 
Met Office 
The Met Office app comes in second place, with the experts sure knowing how to create a helpful and accurate weather app. The only thing that lets this app down, stopping it from taking the number one spot, is the lack of forward forecasts – you can only view weather 7 days in advance.
Weather & Radar
This app offers accurate forecasts among other additions, letting you see 11 days in advance with the app getting pretty good scores across both app stores. The only downfall is that you do have to pay for the premium version – or put up with ads on the free version. 
AccuWeather
This weather app is certainly popular, with over 1 million average reviews across app stores. It also offers forecasts further ahead than any other app, showing a full 45-day forecast. It is however not ad free which is a big downfall for this app. 
The Weather Channel 
The Weather Channel app gets good ratings across stores, offers an impressive 14-day forecast and is great for adverse weather conditions as it sends accurate weather warnings as notifications. Unfortunately, this app is not ad free – but if you can look past this it is a great choice.
The Windy.com app offers some impressive visuals, with a great map animation and layers so you can see different weather forecasts. However, it doesn't have many reviews right now and also doesn't send weather warnings, making it middle of the road in the top 10. 
BBC Weather
The BBC Weather app may be lower down the list than you would expect, however, this is predominantly because it doesn't receive as high of a rating across app stores as many other apps, with an average of just 4.5. This may be down to the fact that it doesn't send weather warnings – however it does have an impressive 14-day forecast and is easy to use.
Yr
The Yr weather app offers a 10-day forecast, however it hasn't received the best reviews across the app stores, placing it further down the list. It is however ad free.
Weather Liveº
This app offers an 8-day forecast, with weather warnings. However, the lower score has resulted from a low number of reviews across app stores, and it is unfortunately not ad free.
Hello Weather
Hello Weather takes the final spot in the top ten, a fairly new app with an average of 452 reviews across app stores. With this app, you'll get an 8-day forecast, no ads and a great design.
Ben Branson, CEO of Fonehouse commented:
"Now we are in Autumn, the weather has already started to change and the colder days are fast approaching.  We know how important it is to be prepared for whatever the weather might throw at you, and a simple app on your phone is one of the simplest ways to check.
App store ratings aren't always the best judge of an app, that's why we have taken into consideration a lot of other important factors such as the number of reviews, app features and whether or not you get inundated with ads to create our list of the top 10 weather apps."
To find out more, visit: https://www.fonehouse.co.uk/blog/top-weather-apps-ranked/