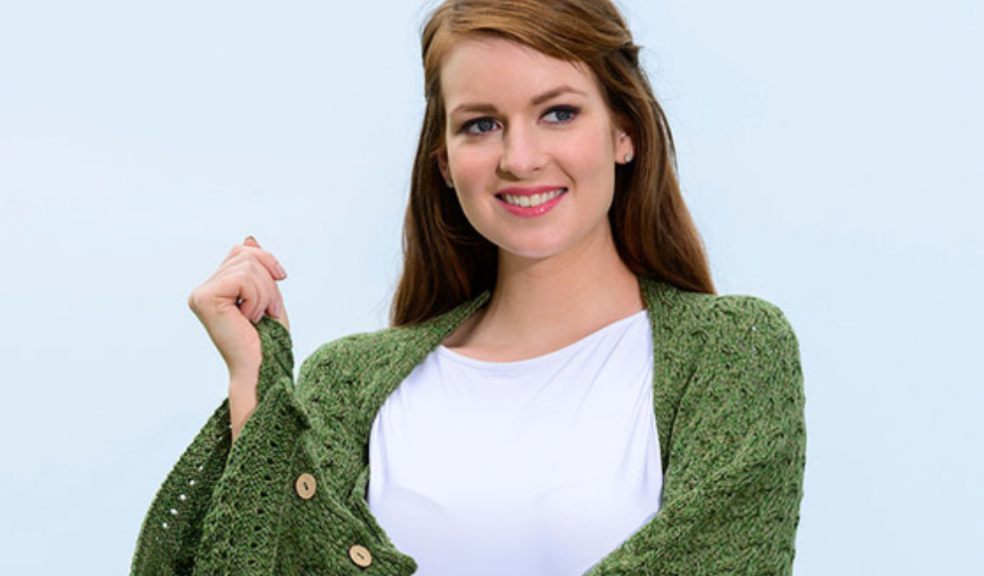 Swing into the summer in our super soft ponchos
Summer has finally arrived, and with it, the need for a wardrobe refresh. With the fashion focus on maxi dresses and sandals, it can be a challenge to find the perfect cover-up for cooler evenings or bad weather days. But at Aran Sweater Market, we have the solution. Our super soft wool ponchos complete any outfit, and will take you from beach to bar simply and stylishly. Here is our advice for swinging into summer with an Aran poncho…
Flattering and versatile
While we're dreaming of long summer days in cool floaty outfits, in reality we all know it's wise to take an extra layer with you. You need something lightweight, just enough to take the chill off, that will coordinate effortlessly with your summer getup. That's the beauty of the Aran cowl neck poncho. With its flattering shape and easy-to-wear super soft finish, it's the ideal piece to throw on over whatever you are wearing. Whether you are having a favourite-jeans day, or showing off an on-point patterned maxi dress, your Aran poncho will accessorize your look with style.
All body types
Top fashion editors know that certain cuts and shapes are much easier to wear. The most classic shapes suit everyone, and that is the case with the poncho. Whatever your body type, a poncho will sit just right, giving a little swing to your summer look with effortless chic.
The colours of summer
Our ponchos come in a wide range of colours perfect for the summer season. At this time of year, neutrals, creams and whites prove popular, reflecting our sunshine-y mood. What is more, lighter colours are better at regulating heat, and so work well in warmer weather. The super soft cowl neck poncho is available in a rainbow selection. Summery neutrals include toasted oat, ocean grey, and seafoam green, conjuring images of misty seashores and hazy days. However, if you are looking for a strong summer statement, you could consider the warm jewel-like shades yellow, coral or jam – summoning a vibrant summer festival spirit.
Style and comfort
It's not true that you have to choose between style and comfort! Our Aran ponchos, made with 100% merino wool, are super soft, and the natural, organic material gives breathability too. In fact, merino wool is an active fibre, meaning it reacts to your body temperature to keep you warm in the winter and cool in the summer. However, style is never forgotten, and our cable Aran wrap was recently featured in Vogue Italia. You don't get more stylish than that.
A poncho for everyone
At Aran Sweater Market, we are proud of our wide selection of ponchos and wraps – in fact we feel that there is a poncho for everyone! Our luxury cable stitch poncho is a modern take on a classic Irish design. The cable stitch is said to represent fisherman's ropes, and many types of cable stitch are possible. The row on which the stitches cross over each other is known as the turning row. After this row, several plain rows are worked, followed by another turning row. To wear a cable stitched poncho is to participate in hundreds of years of Irish tradition.
A really popular summer poncho choice is our luxury trellis stitch poncho. It's an easy to wear piece that is especially versatile as it can be worn in different ways. The lightweight fabric will keep you the perfect temperature throughout the summer months, and the trellis stitch once again has a special place in Irish tradition. The trellis pattern recalls the stone walled fields of the farming communities of Ireland, especially remote rural landscapes such as the Aran Islands. The stitch is used for adding dimension, and is often seen as a symbol of protection. So a trellis stitch poncho could also make a lovely caring gift to someone you love this summer.
For those keen on a bit of detailing, Aran Sweater Market also produces a range of ponchos with buttons. This can really elevate a look, giving focus and definition to the overall effect. The Aran buttoned wool poncho is one for the fashion-forward, with its offset buttoned neck giving more edgy style credentials to a design classic.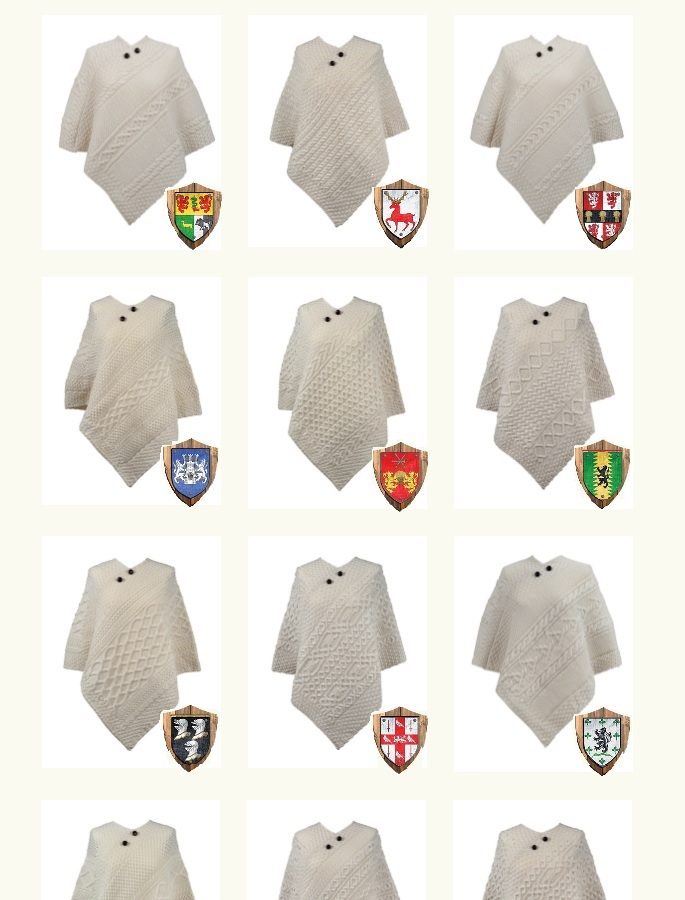 Clan name ponchos
The history of Aran knitting tells a long and complicated story. Each clan would safeguard their own patterns and pass them down generation to generation. There are now over 500 individual Clan Aran patterns registered with us here at the Aran Sweater Market on Inis Mor, Aran Islands, Ireland. Each Clan Aran holds a symbolic meaning connected to the clan name. Ancient patterns and stitches combine to produce a deeply meaningful heirloom item, that becomes a cherished gift when presented amongst families who have an Irish last name or can trace their ancestry back to Ireland. Created by master crafts people, experts in our centuries old tradition, a Clan Aran poncho is knitted in the traditional báinín (pronounced 'baw neen') colour which maintains the natural white of the wool. For each Clan Aran poncho, we also provide a full clan history and clan crest. Made of 100% pure wool, the Clan Aran ponchos are water repellent and fully breathable – perfect summer wear for those who appreciate a sense of connection and meaning.
Artisan heritage
To own an Aran Sweater Market poncho is to become part of a deep Irish tradition. At Aran Sweater Market, we are proud to celebrate our artisan heritage, preserving the crafts of our ancestors in the form of beautiful, long lasting clothing that our descendants can one day enjoy. With designs that feature ancient stitches imbued with meaning, each item is a showcase for many hours of making, many years of skill, many centuries of tradition. Each piece comes with a signed and stamped Certificate of Authenticity, so you know you are receiving a stunning example of craftsmanship, made in Ireland with love.
Swing into summer with an Aran poncho!
If you are looking for the perfect finishing touch to your summer outfits, Aran Sweater Market's ponchos are the ultimate way to keep your cool in style. Versatile, comfortable, and breathable, their timeless designs and flattering cut are an Irish classic for the modern day.