How to clean your jewellery easily
If you want to care for your jewellery, watches and accessories, you have come to the right place. That's because Hagerty offers 12 cleaning formulas specifically designed for each type of metal and stone that needs care. The products care for and protect your treasures over time without damaging them.
Cleaning methods for jewellery
The brand offers three different methods to properly clean the jewels:
Immersion baths (Clean): A small pot with a cleaning formula specifically designed for the type of metal/stone to be cleaned, and a basket in which you can carefully place your precious items to immerse them in the liquid for 2-3 minutes.
Chamoisines (Cloth): A 100% cotton cloth soaked in a solution that allows you to gently polish your jewellery to remove oxidation and dirt.
Cleaning pen (Precious Stones Pencil): A pen with a small brush and gel specifically designed for the care of precious stones.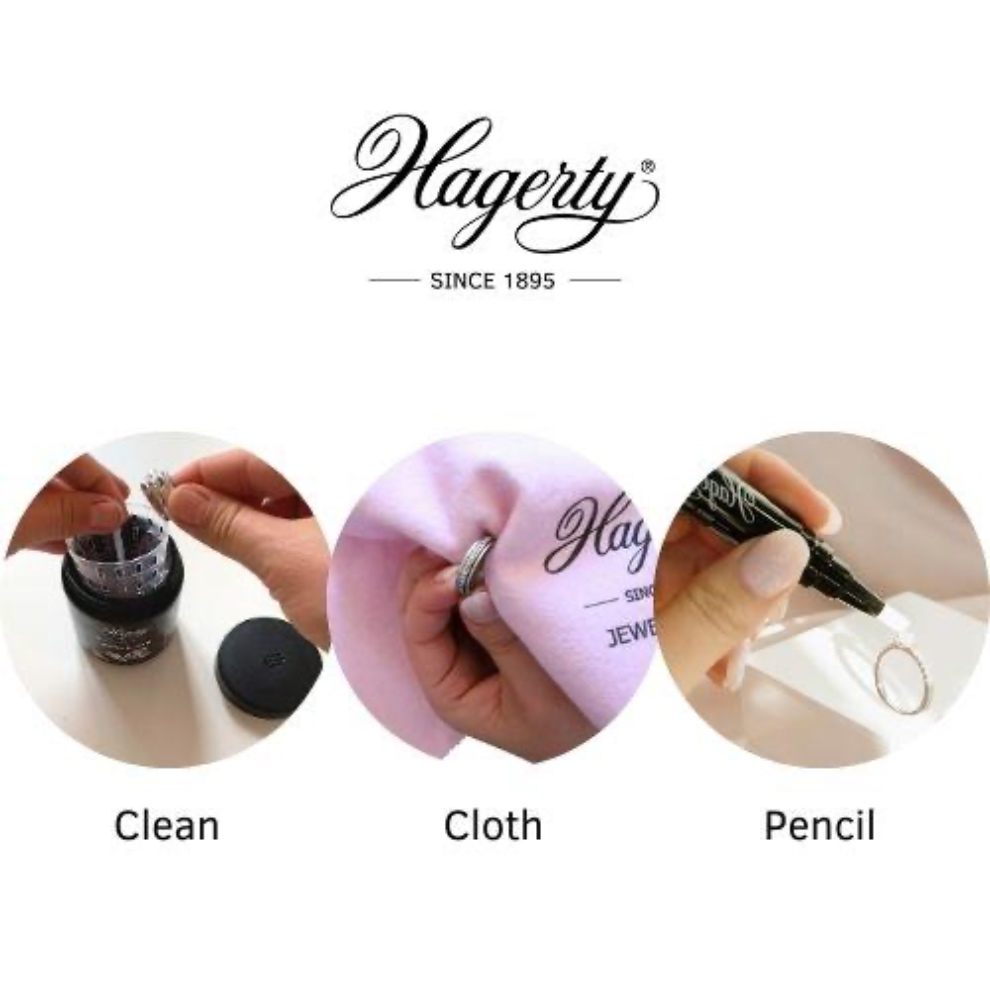 Hagerty cleaning products
Gold cleaners
Pure gold does not oxidise and is known to be rust-free. However, your gold ring will probably tarnish and lose its shine over time. Hagerty offers 2 cleaning products for yellow gold, white gold and rose gold: Gold Clean and Gold Cloth.
Diamond cleaners
You may wear your diamond ring every day and it may be in good condition. However, it is important to take care of the stones set in it, in order to restore its brilliance. Hagerty offers three easy-to-use products that will help you restore the brilliance of your engagement ring or other luxury jewellery: Jewel Clean, Jewel Cloth and Precious Stones Pencil.
Silver and silver-plated cleaners
Chains, rings and other silver jewellery quickly tend to blacken and oxidise when worn daily and come into contact with perspiration, cosmetics or cleaning products.
To easily remedy this, Hagerty has developed 2 specific treatments for the cleaning of silver jewellery: Silver Clean and Silver Cloth.
Natural stones cleaners
If you have a pearl necklace or mother-of-pearl earrings, we advise you to choose this duo of products, especially dedicated to the care of fine and organic stones (pearls, amber, mother-of-pearl, coral, or emerald, agate, opal, lapis lazuli, turquoise): Fine Stones Clean and Fine Stones Cloth.
Stainless steel cleaner
Hagerty also offers the possibility to clean your steel watch or other metal accessories easily with the "Stainless Steel Cloth". The impregnated cotton cloth allows for daily care of your stainless steel or white metal jewellery.
Costume jewellery cleaners
Finally, if you have jewellery made of zirconium, crystal or glass, so-called fashion jewellery, you can take care of it with two special products: Fashion Jewellery Clean and Fashion Jewellery Cloth.
You can find the entire range online at www.hagerty.world.
How to store your jewellery correctly?
After cleaning it, you should now preserve your jewellery over time and slow down their oxidation, by storing them in a place where they will not be damaged. Indeed, dust, light or humidity can easily damage your precious pieces.
Ideally, you should store your treasures in a jewellery box specially designed for their care. The box should contain dividers to prevent the different metals and stones from touching and scratching each other.
You now know how to look after your precious objects.