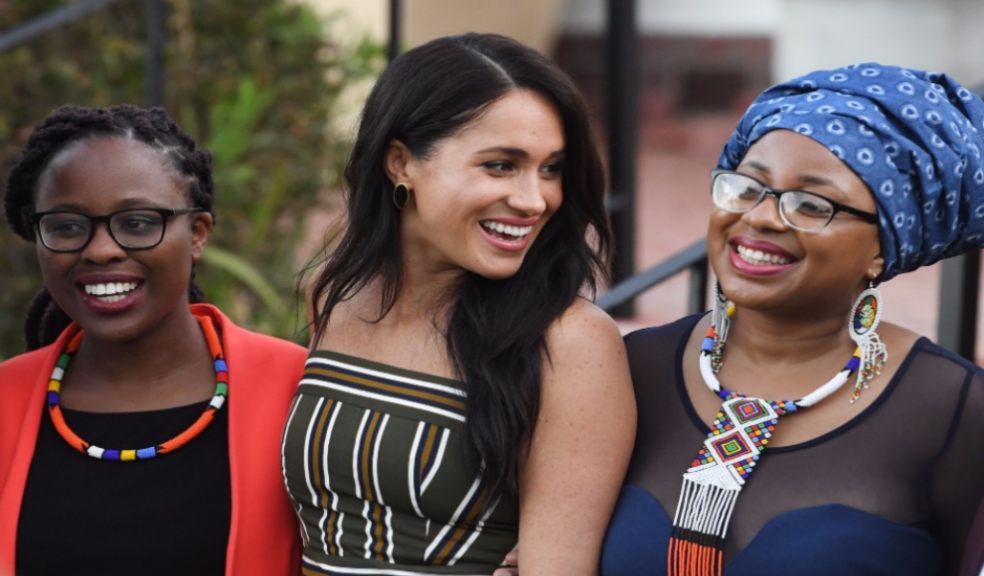 Meghan is officially the most Googled fashion influencer of 2019
Forget Zoella or Chiara Ferragni, when it comes to fashion influencers (the kind that have the power to deplete our bank balance straight after payday) the Duchess of Sussex is pretty much unrivalled.
The chic royal is such #stylegoals, that she's topped the list of last year's most searched-for fashion influencers, beating style Instagrammers with followers in the millions.
The research compiled by fashion platform Lyst, as part of its Year In Fashion 2019 Report, analysed the shopping habits of over 104 million people worldwide to find the most popular brands, trends and tastemakers of the past year.
The report found that Meghan's outfits sparked an average 216% increase in searches for similar pieces, with droves of shoppers clamouring to find identical looks.
Whether she's rocking a casual  button-down shirt or she's dressed up in a preppy midi-dress, the royal's signature LA-meets-London style has clearly been a major inspiration, and ever since she went public on her relationship with Harry, Meghan's sartorial choices have been known to single-handedly change the fortunes of fashion brands overnight.
Thanks to her love for mixing high street with high-end, the Meghan-effect particularly went into overdrive this year, with Lyst reporting that it was during the Royal Tour of South Africa that her sartorial power hit its peak.
Here, we take a look back at some of the most influential items that Meghan has worn over the years…
1. The Veja trainers
When Meghan was photographed wearing a pair of box fresh Veja V-10 trainers during the couple's official royal tour in Australia, Lyst revealed that online searches for the sustainable shoes shot up by 118%. The French label has since become one of the hottest footwear brands on Instagram, with celebs and influencers copying her look too.
2.  The Club Monaco dress
Meghan looked incredible when she donned a floaty Club Monaco dress to meet Nobel Peace Prize laureate Archbishop Desmond Tutu while she was in South Africa with husband Harry and baby Archie. No surprises then that the dress sold out online in less than 24 hours, after a 570% increase in searches.
3. The J. Crew skirt
Anyone that studies Meghan's fashion movements closely will know that she's a huge fan of J.Crew – she's been spotted wearing the American brand on more than one occasion. This monochrome midi skirt was a particular hit with fans though, with internet searches for the brand increasing by 102% after she was picture wearing it in South Africa.
4. The Line coat
Remember Meghan's engagement coat? When the royal couple announced they were getting married, the bride-to-be sent the internet into overdrive by wearing a £390 white coat from Line. The belted beauty sold out completely online, and it was so popular that the founder of the brand announced there wouldn't be any more stock until March the following year.
5. The Hiut Denim jeans
Of all the clothing items that Meghan as sparked sell outs for, this pair of jeans might be the most difficult to get your hands on. The Hiut Denim 'Dina' jeans she wore on a royal outing to Cardiff are the work of a small Welsh brand that was overwhelmed by the sudden interest from royal fashion fans. Hiut Denim's co-founder David Hiett even told the Daily Mail that the company were moving to a bigger factory cope with the high demand of orders.
If that isn't fashion influence, we don't know what is.
* PICTURE PA Wire/PA Images
See also
Megxit: Other times Meghan and Harry have bucked royal tradition
https://www.lifestyledaily.co.uk/article/2020/01/17/megxit-other-times-meghan-and-harry-have-bucked-royal-tradition
Megxit: How Harry and Meghan can keep wider family ties strong when they leave
https://www.lifestyledaily.co.uk/article/2020/01/17/megxit-how-harry-and-meghan-can-keep-wider-family-ties-strong-when-they-leave