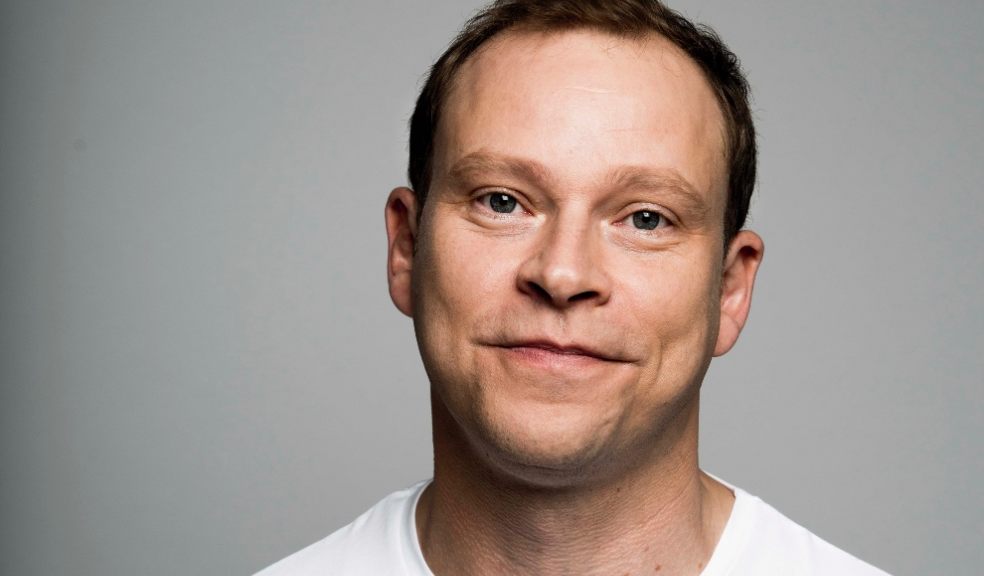 Robert Webb on David Mitchell: We never fell out exactly...
He used to be part of a double-act with comedian David Mitchell, starring in Peep Show and That Mitchell And Webb Look, but Robert Webb says not working together as much has truly helped their friendship.
While they have gone their own ways career-wise, both appearing in panel shows, on the West End stage and writing memoirs, they are still close, says Webb today. He'll be working with Mitchell again on the second series of sitcom Back for Channel 4.
"Since we stopped working quite so intensively, it's done the friendship a power of good. We actually like seeing each other now," the comedian and writer says wryly.
As chalk-and-cheese flatmates Mark Corrigan and Jeremy Usborne, they starred together in the comedy hit Peep Show for 12 years.
Webb says: "From 2006-2010 we'd pretty much see each other every day, when we had That Mitchell And Webb Look on BBC2 and Peep Show on Channel 4. We were never out of each other's company.
"For two people who are not technically in love that's quite a lot of time to spend together.
"We never fell out exactly, by my goodness there were punchy silences along the way. We dealt with it by being icily polite."
Webb, 47, who had major heart surgery last year and has since reportedly quit drinking and smoking,  is now focusing on writing and enjoying family time with his wife, actor and comedian Abigail Burdess, and their two daughters Esme and Dory.
Today, Webb is talking about his debut novel, Come Again, a romantic fantasy in which a young widow travels back in time to try to change the future.
Kate met Luke at university but he has died from a brain tumour and she finds herself travelling back in time to their university days to try to reverse her grief-laden fate.
It's both hilarious and poignant, as Webb captures the old university environment, the freshers' week parties, the flutterings of first love, the insecurities and the freedom, a reminder of nostalgic times gone by.
But when an older, wiser person, as IT manager Kate now is, revisits the past, she has changed in the 28 years she shared with Luke since university. Add to the mix the fact that her current job is to rewrite online history by wiping dodgy backgrounds and unsavoury dealings of her clients, and the plot is given extra depth.
"Kate has to return to the past to learn to re-engage with the present and to integrate her loss with the hope of the present. That's what mourning is," he explains.
"She knows how to save her husband and thinks that she has to do everything exactly the same – and that's where it gets funny because that's impossible. As soon as you go back, everything starts to change out of your control."
Webb well remembers his own university days at Cambridge, not the least because he was the first member of his working class Lincolnshire family to go to university and he worked his socks off to get there.
His mother died when he was 17 and it took Webb some time to re-engage with the present, he agrees.
"There was a feeling for a while that everything's rubbish now, but I had some good friends and the timing was good. I buggered up my A-levels after she died but I retook them so I had this project to keep me occupied. But it was hard."
He had counselling at university during his first year.
"In that moment when you're in trouble, it's someone to talk to. He's got nothing better to do with his time so you don't need to feel guilty or worry about being self-indulgent. Just knowing throughout the week that I could talk to someone made all the difference."
He met Mitchell through the Footlights. Webb was vice president and he'd always wanted to do comedy. But it took them years of writing and performing before they gained fame.
"We clicked straight away. He auditioned for a comedy panto and we were in it together. We didn't really talk much. He was a first year and I was a second year and at that time that still made a difference.
"He would have had to have been very bold to even walk up to me because I was playing the lead and was probably very grand about it."
The following year the Footlights did a revue, for which Mitchell wrote some material, and they performed a sketch together, which made them laugh (but nobody else).
"It was the era of the whole 80s alternative comedy gang – people like Ben Elton, Rik Mayall, Fry and Laurie, French and Saunders, Ade Edmondson – and people who weren't really part of that crowd but were around in the 80s, like Victoria Wood. I adored them all."
In recent times he's gone down the writing route rather than fervently pursuing acting, he agrees.
"I was really grateful for Peep Show and That Mitchell And Webb Look, which I loved doing. But since then I've become more fussy about what comes along. It's fun between 'Action!' and 'Cut!' but the rest of a filming day is pretty long and not very satisfying really.
"I don't want to retire from acting, but the writing has started to overtake it as I've become increasingly fussy and as my interest in writing books has progressed."
He says he turns down a lot, particularly jobs which involve a lot of filming away from home.
"I've got a family. My girls are eight and 10 and I'm aware they are not going to be little for much longer. I just like the hours of writing. I can do it at home and I feel much more present.
"So much stuff involves months away from home. And sometimes small parts come up in good movies and I'm looking at the part and I'm thinking, 'Why are they picking on me because the part isn't particularly funny and doesn't need me to do it? Give it to Martin Freeman.'"
The book tour that was planned has gone virtual, so promotion will be via online platforms, but he is ambitious for the novel as it took two years to complete, he stresses.
"It's exciting that I'm starting a whole new part of my career. I hope it's the first of many. I'm partly thinking about the next one and partly thinking about if anyone approaches me to try to turn this one into a screenplay.
"If nothing else crops up, I'll start the next book."
He's often asked if he and Mitchell will ever bring back Peep Show.
"I'd never say never. Sam (Bain) and Jesse (Armstrong), the writers, and David and I said at the time we'd love the characters to come back after a very long gap.
"If we are so blessed that we make it into our late 60s, I think it would be very funny to see Mark and Jeremy in the same flat having the same argument 25 years later. We've always kept that door open. But Peep Show as we know it finished in 2015."
Come Again by Robert Webb is published on April 23 by Canongate, priced £16.99 hardback, £12.79 Ebook.
Image: Matt Crockett/PA