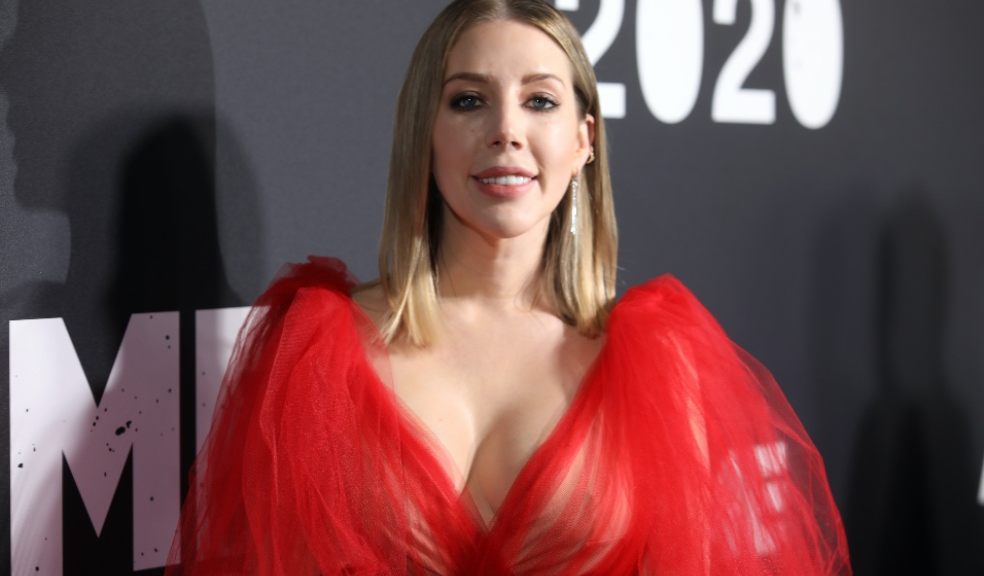 Katherine Ryan says it is impossible to be liked by everyone
They say if you want something done, ask a busy person and, for Katherine Ryan, lockdown is proving the old adage true.
Ensconced with her husband and daughter on the London-Hertfordshire border, Ryan is supposed to be scribing the second season of her sitcom, but despite the mounds of free time, lockdown life is proving rather distracting. "I'm really not getting into it," she says. "We're just spending time together, going on long walks. I worry if I'll ever be productive again, or if it will always be white wine at 3pm."
The break, or "spiritual reset" as she terms it, inevitably comes with mixed emotions, but Ryan is adept at finding reasons to be cheerful. One day it was a virtual workout with Towie alum Mark Wright, the next a matching tie-dye tracksuit for her husband ("that really gave us a sense of occasion"). Sometimes it's the sight of the neighbourhood's children communicating via trampoline, shouting over fences for the second or so spent suspended at the peak of each leap.
Lockdown has yielded unexpected upshots for us all, and Ryan's strangest addition centres around a pony. "We have a pony kept in a stable with a few others," she says, "but since lockdown, they've been let loose in a field, and each owner gets a slot to physically wrangle their pony to check they're not hurt. It's kinda scary, but ponies respect self-confidence, so I walk out onto that field like Mariah Carey."
Amateur ranch work aside, her most ambitious lockdown project is Table for 1 Million, a free 'virtual dinner party' on May 22 hosted by recipe box brand Gousto, which aims to bring together a record number of people for an online mealtime with Ryan, Nick Grimshaw, Paloma Faith, and David Haye.
"I think comedy is a conversation," she says, "and I've been having a lot of one way conversations with plants in my house. I'm very excited to engage with people who are not my family."
The 'dream guest' is standard dinner-party conversation, and for Ryan, one name stands alone. "Every day I wake up and say a prayer to Betty White. She's in her late 90s and still with us, and I don't know why we wait for celebrities to pass before honouring them on social media. With all her achievements, and what an amazing person she is, she's my number one."
For comedians, coronavirus poses another question: To laugh or not to laugh at the deadly pandemic as it ravages economies and hospitals. Ryan could, but she won't: "I tend to stay away from topics I see too often on the news. I didn't do much Brexit material, and I don't foresee doing corona material either."
Besides, she says, she doesn't need to, as a wave of satire is sweeping social media from professionals and punters alike. "I saw a tweet the other day saying, 'I would rather trust the CDC than your cousin Matt who was banned from Denny's for lighting firecrackers'. I loved that."
Hailing from the mean streets of Sarnia, Ontario, on the banks of great Lake Huron, Ryan worked at a Toronto branch of Hooters as a student, and often found solace in the comedy club next door. "I was always getting into trouble at Hooters," she recalls, "as it was all about submissiveness, and being really sweet and feminine. I used the club as an outlet, as you might a spin class."
After moving to London, she took an office job and advertised for nanny work – "no one wanted me as a nanny" – before breaking into the local stand-up scene. Often compared with Joan Rivers, Ryan's caustic quips and pinpoint punchlines saw her rise rapidly through the ranks of comedy's top brass.
Her no-holds-barred humour occasionally ruffles feathers – and Ryan really doesn't care. "Even when I was small, I realised it was impossible to be liked by everyone," she says, "so I've just never tried. I always say I was the only child in the world that actually believed their mother when she said the bullies were 'just jealous'.
"I would never accept criticism from someone I wouldn't take advice from. If someone I look up to – Sara Pascoe, Joe Lycett, Aisling Bea, Roisin Conaty – took me aside and said 'Katherine, I really hate what you're doing', then I would listen, but until then, there will always be people who disagree with you."
Authenticity is Ryan's calling card, and her sets are suffused with hilariously honest expositions on sex, celebrity, and single motherhood. It rarely escapes interviewers' notice that Ryan is, in fact, female, and the phrase 'as a female comedian…' is often sent her way.
Does she mind? She pauses: "Not really, I think it's more a collective annoyance that I feel. There was a very positive review of my podcast the other day, but at the end it said that my voice was abrasive. 'She's so great, and so abrasive', and I thought 'yeah, here we go'. We get painted a lot with the same brush – be it 'abrasive' or 'shrill' – and at this point, it's just unoriginal."
Ryan cites Netflix smash hit Tiger King as a parallel example. The main cast are villains one and all, and yet while Carole Baskin is vilified, the Tiger King himself has been lionised. "There's still this idea that women are sneaky – like at the Salem witch trials," says Ryan. "It's crazy to say we have gender equality, socio-economic equality, racial equality. We just don't."
Things are improving, however, and Ryan considers herself an optimist in all things – from gender relations to Covid-19. "I think comedians have always been regarded as truth-tellers," she says, "and personally I think that's why the authenticity of comedy shines through. I don't worry about tours and clubs – they will always return, even in tough times."
When they do, Ryan won't be taking a moment for granted. "Early in my career, my tour manager gave me some very sage advice. He said I was having a moment of ascension, and that I should always remember what it felt like, because for so many comedians, once that moment of change is over, everything feels less exciting."
It is perhaps fortunate, then, that Ryan still has plenty to aspire to. "I was a question on The Chase the other day and everyone got it wrong. Even the Governess couldn't guess and I've met her twice."
Join Katherine Ryan and three dream celebrity dinner guests at Gousto's Table for 1 Million on Friday, May 22 at 8pm. Tablefor1million.com @goustocooking #Tablefor1Million
Image: David Parry/PA