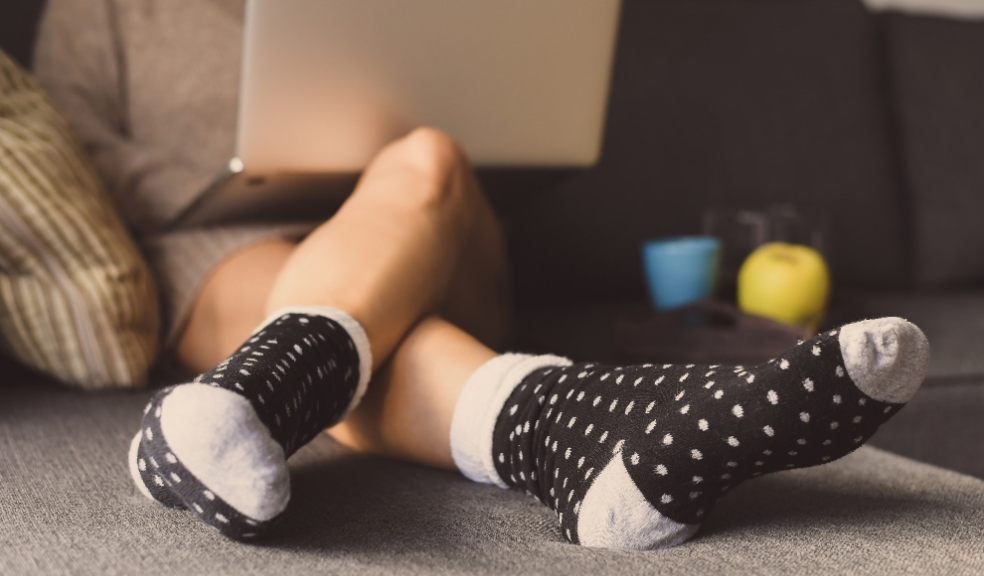 Seven fashion and beauty rules that only apply in lockdown
Karl Lagerfeld famously said: "Sweatpants are a sign of defeat. You lost control of your life so you bought some sweatpants." But after a couple of months living in lockdown, we're inclined to disagree.
If you've recently found comfort in soft jersey fabrics, sought a kind a freedom in letting your body hair grow free and embraced the the socks and sandals trend with open arms, then you've fully committed to the new lockdown style rules.
Here are a few fashion and beauty mantras that only apply to right now, but long may they continue for years to come…
1. You only need to look 'top half' presentable
After several weeks of initially stuffing our gussets into suit trousers and pencil skirts, most of us have now woken up to the idea that video calls need not be so painful. Basically, you only need to give the illusion that you're wearing full business attire, rather than actually enduring it.
In most cases, that means donning a nice shirt and a strong pair of earrings for the camera, but surreptitiously hiding your moth-eaten pyjama shorts underneath your desk. It's sneaky, but effective.
2. Sweatpants are your best friend
Sweatpants have not just become your most-worn item, they're practically now a way of life. You can vaguely remember a time where you wore jeans, but the idea of all that itchy demin and uncomfortable stitching is enough to bring a shudder down your spine.
Some days you even toy with the idea of putting on a cute jumpsuit or rocking a dress, but your tolerance for non-practical fashion is now extremely low. One frustrated adjustment too many has you running back to your old friend: the sweatpants.
3. Hair removal is a thing of the past
From moustaches to legs, bikini lines to underarms, lockdown has become the perfect opportunity to ditch the razor and let our natural fuzz go free.
Plucking, waxing and bleaching is now a thing of the past and quite frankly, we couldn't be happier. Consider us done with expensive and painful beauty treatments.
4. Shoes aren't a thing anymore either
Guys, remember shoes? Unless we're toeing our feet into a pair of Birkenstocks to trudge to the supermarket for supplies, we've spent the last two months totally barefoot. Or at the very most, sporting a pair of oversized bed socks.
It's been a strange but liberating period. Although we're desperate for bars and clubs to open again, we're secretly dreading the day we have to stuff our feet into a pair of heels and endure their torturous blisters again. Perhaps it's time for us to ditch the stilettos for good.
5. DIY haircuts are the new normal
When it comes to hair, anything goes right now, so it's totally the time to experiment with a choppy mullet or some drastic bangs.
At some point in lockdown, most of us have attempted a DIY haircut, so nobody is judging you for a badly executed trim. There's a kind of collective camaraderie over our wonky fringes, blunt layers and patchy dye jobs, so don't be afraid to take matters into your own hands.
6. You only need to wash your hair once every fortnight
Speaking of hair, it's become completely acceptable to just forgo washing it completely. If you sit far enough away from your camera, nobody can make out the layer of grease that's harbouring on your scalp on video calls, so enjoy the time off from having to use the hairdryer.
7. Fresh pyjamas are the ultimate treat
Hands up if you've changed out of old pyjamas, showered and then put on fresh pyjamas right afterwards?
It shouldn't make sense, but during lockdown, putting on a clean pair of sweats feels like a huge personal achievement.
Sure, our sense of style might have gone completely out of the window over the past few months, but we're learning some incredibly useful fashion and grooming lessons during lockdown.
Basically, beauty isn't worth the pain, heels will never be OK and sweatpants are the unsung hero of our wardrobes. Oh and socks and sandals aren't just for dads. You heard it here first.