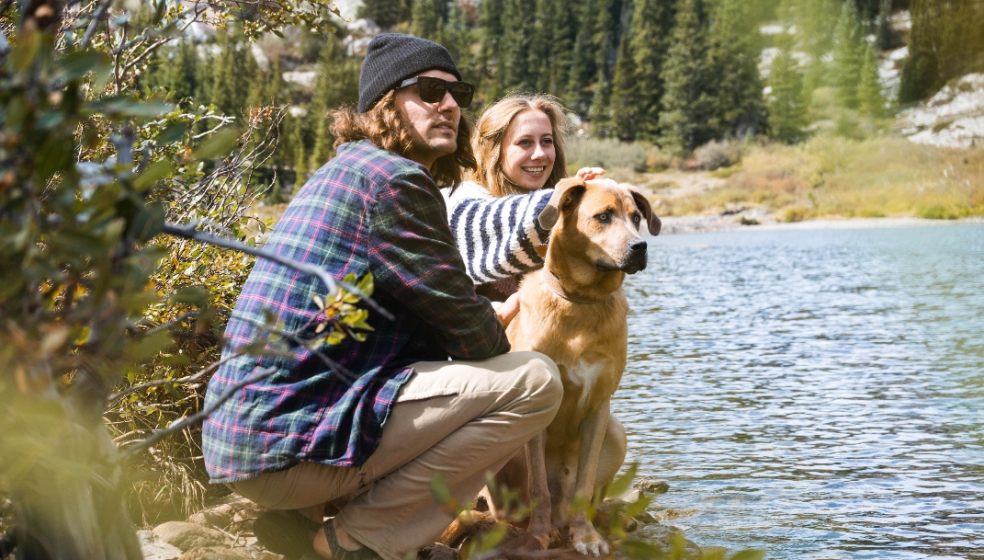 Take your dog to the best spots in walk your dog month
If you're thinking of taking up exercise as your New Year resolution, unlike your friends, who may cancel on you with varied excuses, dogs will never turn down an action-packed walk. 
With obvious health benefits for both you and your dog(s), walking for 30 minutes a day or more is a great way to improve or maintain your overall health. Why not take a brisk walk with your canine pal, stepping into the New Year with a healthier lifestyle? 
In line with Walk your Dog Month, UKCaravans4hire.com have narrowed down their favourite trails to give us the best walking spots in the UK to help dust off the January blues.
Managing director of UKcaravans4hire.com, Gareth Irving, commented: "The UK is full of stunning walkways your pups will love and now is the perfect time to explore the beauty on your doorstep. If you're thinking of taking advantage of the UK's beautiful landscapes, make sure you follow the government guidelines and stay local."
Hadrians Wall
In the city of Carlisle, England.
Hadrian's Wall, also known as the Roman Wall, has plenty of gradients to get your blood pumping. The route consists of five miles with impressive views and historical interest, taking you along part of the 73-mile Roman wall. If you're looking for a little distraction on your route, this is the perfect place to walk.
Jurassic Coast and the South West Coast Path
Stretches from Exmouth to Studland Bay, Dorset.
The World Heritage Site, Jurassic Coast is located on the English Channel coast of southern England, stretching from Exmouth in East Devon to Studland Bay in Dorset - about 96 miles. 
Gardener's Trail, Tintern Abbey
Welsh bank of the River Wye, Tintern, Wales
At Tintern Abbey, founded in the early 13th century by Lord of Chepstow, has a few different trails but the Gardener's course is our favourite. You can cross the Tintern River via the historic stone bridge whilst enjoying the green scenery containing 200-year-old beech trees on this six-mile trail! Halfway through the route, you will discover the Colclough Walled Garden and ruins of the head gardener's cottage on the return path to the trailhead.
Tarka Trail 
From Croyde to Saunton Sands, Devon
The figure-eight, 180-mile route, travelled by Tarka the Otter (in the famous novel by Henry Williamson) passes through unspoiled countrysides and beautiful beaches with dramatic sea cliffs. The southern loop is the longest, continuous off-road cycle path in the UK with spectacular views of Dartmoor and Exmoor and a varied amount of places to visit along the way such as Crow Point, Meeth Quarry and the 'little white town' of Bideford.
Regent's Canal Trail
Limehouse Station, through the heart-and-soul of London.
With a distance of 4.6 miles, this route starts in Regent's Park following on to Regent's Canal Towpath. The trail traverses by the world's oldest scientific zoo, London Zoo, where you can catch a glimpse of the resident tigers, zebras and more. You will also find yourself passing through the once industrial (now hip and alternative) Camden Town, where you can pick up a bite to eat at the market before the walk back through Regents Park.
Yr Afron Trail, Coed y Brenin
Based in Snowdonia National Park, North Wales
The forest road trail of Afron provides breathtaking picturesque views of the river Mawddach including the beautiful waterfalls on the river Gain and Mawddach. It's a relatively low-level seven-mile route on forest roads however it does include a rougher section of private track with short steepish climbs and a steep forest road descent.
Bob Graham Round, Lake District
Forty-two fells, starting and finishing at Keswick Moot Hall.
The Bob Graham Round is a fell running challenge in the Lake District, famously named after Bob Graham, who in June 1932 broke the Lakeland Fell record by traversing 42 fells under 24 hours! The route is a total of 77-miles, perfect for long walks with the family.
High Peak Trail, Peak District
From Dowlow near Buxton to High Peak Junction at Cromford
The 17-mile trail running along the High Peak Railway, first opened in 1831, was bought by the Peak District after many years of minerals and goods travelled between Cromford Canal and the Peak Forest Canal. The beautifully scenic route offers dramatic views of the stunning Derbyshire Dales between Middleton Top and Parsley Hay.
Emery Down Trail, New Forest National Park
Located near Lyndhurst, Hampshire.
The Emery Down trail is well known for its historic church, charming almshouses, and the birthplace of well-known snake-catcher Brusher Mills. A beautiful bridleway, especially in Autumn with the glow of golden leaves, takes you by Northerwood House, Bunkers Hill, Pikes Hill and Swan Green where you can find a picturesque cricket pitch with perfect thatched cottages and ponies.
Thames Path Challenge
Along the River Thames, London.
The popular Thames Path challenge is perfect for walks as well as running. The route starts at Putney Bridge, past Hampton Court to Runnymede of Magna Carta fame at 50km. Following, you will find incredible historical scenery to Henley. With half & quarter distance options - you can walk the full lot or pop out for a quick walk.