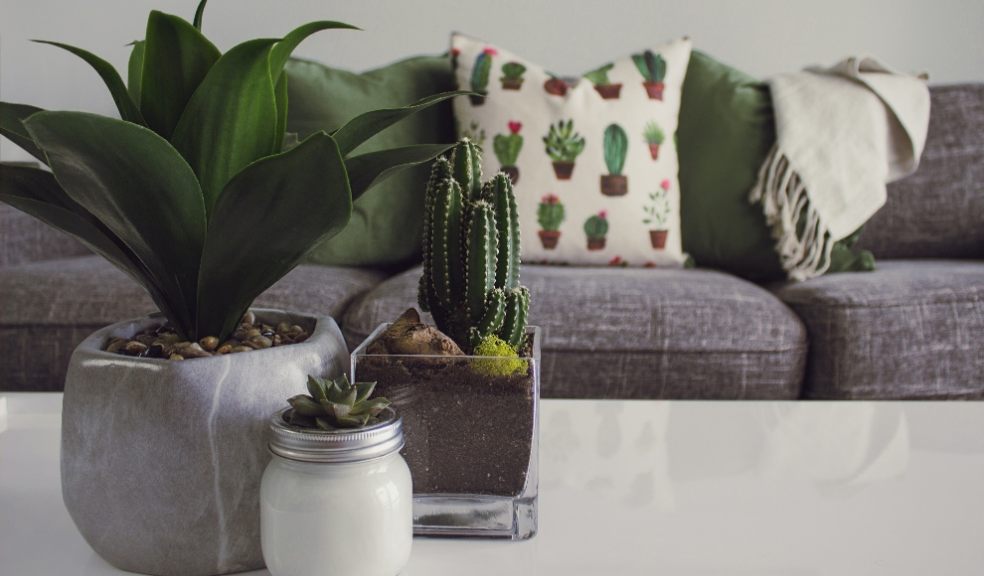 Top Five Interior Design Trends for 2021
Want to refresh your home for the New Year? As we spend more time at home, experts at Good Move reveal the top interior design trends for 2021, and offer top tips on how you can recreate them in your home. 
1.      Cottagecore Chic
If you're into 'Bridgerton' and anything Austen-related, this is the aesthetic for you.
Cottagecore has become more popular within the last few years with an emphasis on soft tones, repurposed materials, and agricultural aesthetics. 
Achieve your farmhouse fantasy by filling your home with rustic woods, metals, and rich fabrics. If mindfulness and serenity are priorities, especially within a work-from-home office environment, combine neutrals with natural elements and leafy greens. You can also add curtain lights to create a shimmering wall of light for any space.
2.      Get creative with colour
A splash of colour on the walls can totally revive a room and is an easy and simple way to change up the style of a room. 
Pantone have chosen two colours for their Colour of the Year 2021, yellow and gray, which they describe as independent yet complementary, so it might be worth trying to incorporate these shades more into your home if you can. 
Similarly, pastels and sorbet shades have been a long-time favourite for interior colours, and help to create a soft, calming environment.
If that doesn't sound like you, earthy tones are also on the rise for 2021 thanks to 'Brave Ground', a warm and neutral beige, taking the crown as Dulux's colour of the year. Combine this with neutral accessories and appliances creates a charming warmth across your home office, living room, and bedroom.
3.      Nordic minimalism
A firm favourite, this style collates all the positive elements that have made Scandanavian interiors so popular. 
It's all about clean lines, muted colours and uncomplicated living, and is particular suited to smaller spaces – great if you live in a flat or shared space. 
To recreate Nordic minimalism in your home, make use of natural light, greenery and neutral tones,. Styling according to the essence of hygge, the Danish feeling of comfortable contentment (not dissimilar to practicing Feng Shui), will also heavily promote Nordic minimalism and cosiness in your surroundings.
4.      Vintage
While many home interior styles come and go, vintage styles are elegant and timeless, and will see you throughout 2021. 
Easy ways to execute a vintage feel in your home are through your choice of accessories, fabrics, and colour palette. Think rustic antiques, repurposed retro, and just about anything considered classic chic. Upcylcing old furniture is also a great way of breathing new life into your pieces, and is a great task to help fill in your time during lockdown! 
5.      Shabby Chic
Want your home to ooze elegance and comfort? Shabby chic may be exactly what you're looking for. 
Somewhat of a toned down vintage style, this is another timeless trend that offers a sense of luxury which can be achieved by a combination of both new and vintage pieces. 
Add personality to your home with some antique decorative accessories, such as an aged chandelier or some worn furniture that has a little wear and tear. The key here is to make sure they only look distressed and are, in fact, going to last. 
To conclude, Nima Ghasri, Director at Good Move, says: "Redesigning your home is an exciting process, and breathing new life into your home through new interior choices can be a great way to ring in a New Year. What's more, if you have the time, capacity and funds, redesigning your home can be a great lockdown project. 
"We all have our own individual style and our homes are the perfect place to express that creativity. Our homes should reflect who we are and hopefully these ideas and tips will help you get excited about redesigning your home for 2021."
For more information on ways to spice up your home in 2021, please visit: https://goodmove.co.uk/blog/top-interior-design-ideas-to-incorporate-in-your-home/