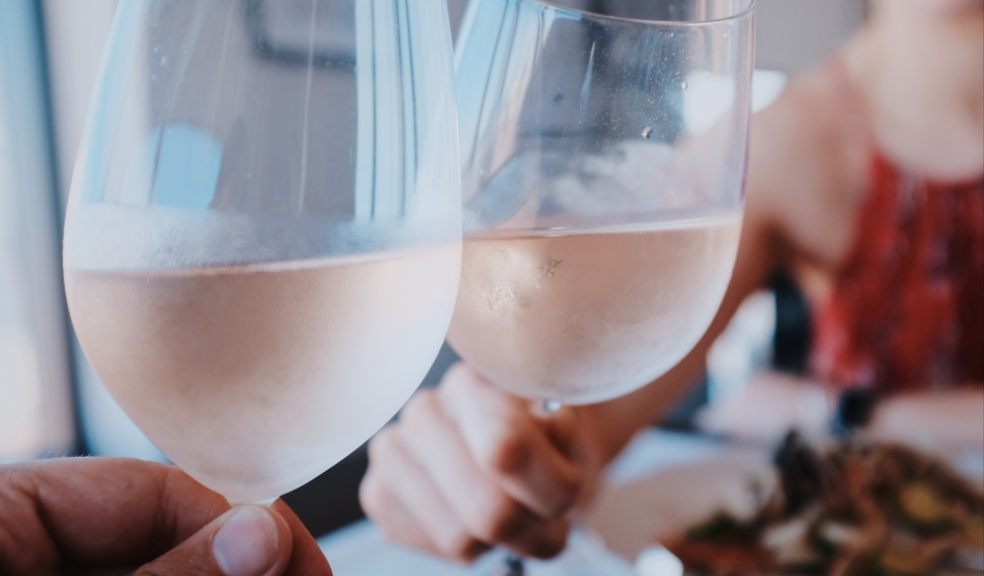 The UK drinks 50 Olympic swimming pools of rosé wine per year
Rosé wine is set to be the drink of the summer. Online searches for rosé wine have increased 27% in the past five years, with big celebrity names jumping on the trend. Brad Pitt and Angelina Jolie own a Southern French vineyard, the Château Miraval. Post Malone launched his own rosé brand, Maison 9. It's clear that rosé wine is the on-trend drink of 2021. And spearheading the rosé race to the top is the Instagram favourite, Whispering Angel. With the launch of Hayford and Rhodes - Rosé Petal Gift Set they have taken a deep dive into the UK's obsession with this show-stopping drink.
Produced by Château D'Esclans and sold in more than 100 countries, UK demand for Whispering Angel has increased 77% in the last five years. The wine has become the go-to rosé of Instagram. Over 51,000 posts include the hashtag #whisperingangel on Instagram — particularly impressive when you consider that #rosewine has around 606,000 posts.
In fact, #whisperingangel on Instagram has more than double the tagged posts of its competitor rosés:
Wine Brand – Hashtag – Tags
Whispering Angel – #whisperingangel - 51.1K
Hampton Water - #hamptonwater – 21.1k
Wolffer Estate Summer In A Bottle Rosé - #summerinabottle – 19.4k
Ruinart Rosé - #ruinartrose – 7.5k
Aix Rose - #aixrose – 4.2k
Channing Daughters Rosato di Cabernet Franc - #channingdaughters – 3.5k
Miraval Provence Rosé - #miravalprovence – 1.2k
From holidays to celebrations, people are tagging Whispering Angel Rosé wherever they go. And it's not just Instagram Millennials: Gen Z are lapping up the Whispering Angel trend too. On Tik Tok, videos hashtagged #whisperingangel have over 2.1 million views.
Lockdown has only increased our urge to sit in a park with this rosé favourite. Between May and August 2020 — peak rosé wine drinking time — Googles for 'Whispering Angel' in the UK increased 20% compared to the same period in 2019.
The UK drinks 50 Olympic swimming pools of rosé wine per year
Rosé wine in general has grown hugely in popularity over recent years. Demand for 'rosé' and 'rosé wine' increased 10% in summer 2020 compared to 2019. In total, the UK drinks the equivalent of 50 Olympic swimming pools of rosé wine per year, with the majority of this being French rosés like Whispering Angel.
Aside from being incredibly Instagram-worthy, rosé wines have seen a surge in popularity as gifts and drinks for special occasions. A quarter of rosé wines are consumed at special events and 14% are served on dates. Rosé has become the drink of choice for showing others we care and for making them feel appreciated on their special day or an evening out.
Rosé Wine Cocktail Recipes
Rosé wine is the perfect gift — and it's easy to see why! Not only is it pretty in pink, but it's also far more versatile than other wines as you can make a variety of delicious and refreshing rosé wine cocktails from it. Here are our top rosé wine cocktails you can easily make to treat a special someone in your life!
Rosé Sangria
Ingredients
Fruit: orange, lemon and strawberries
Sugar
Rosé wine
Brandy
Sparkling water (optional)
Mint, for garnish
Recipe
Mix the fruit with the sugar and let it soak at room temperature for 20 minutes.
Add the rosé wine and brandy.
Throw in some lemon slices.
Refrigerate for 1 to 4 hours. This allows the flavours to develop.
Your sangria is ready, perfect for any summer party!
Frosé (Frozen Rosé)
Ingredients
Rosé wine
Strawberries
Honey/maple syrup
Recipe
Blend the berries, rosé and honey/maple syrup, then strain. 
Pour the ingredients into a baking dish and cover.
Freeze for 6 hours or overnight. 
Once your Frosé has been in the freezer for at least 6 hours, it's ready to serve!
Rosé Spritzer
Ingredients
Recipe
Pour a serving of rosé wine into a glass.
Pour in an additional 25% of soda water. (Feel free to increase the soda water ratio to your preference.)
Stir gently and enjoy!