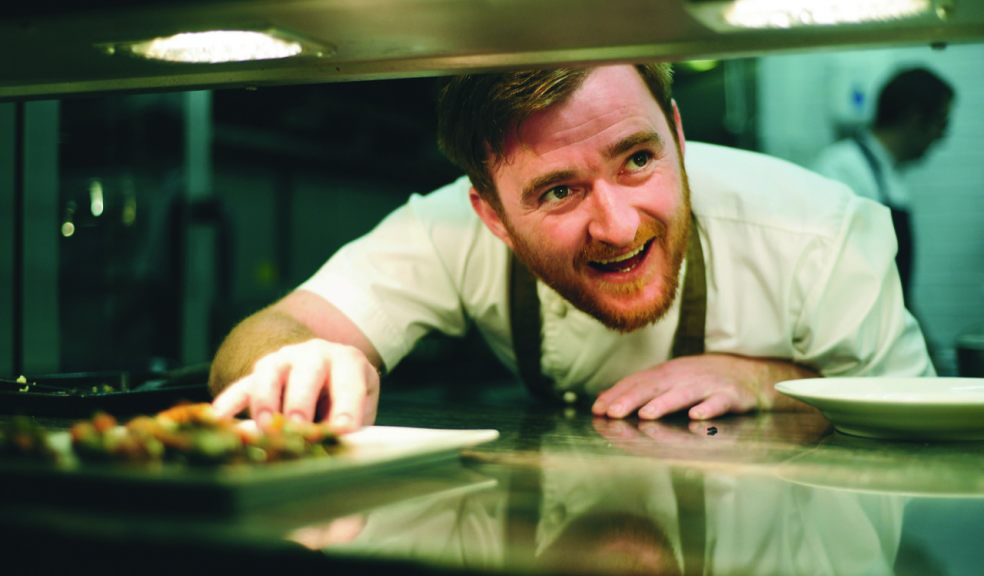 Jack Stein talks food, golf and Cornwall
They say the apple doesn't fall far from the tree and it's certainly true when it comes to Jack Stein.
Son of famous Cornwall chef Rick, Jack has more than lived up to his famous surname overseeing all the Rick Stein Group's food and its 14 restaurants across the UK.   
From an early age, he worked as a porter in his father's The Seafood Restaurant before moving to front of house when he was 16, something he continued to do throughout his time at university in Cardiff.
Just like his father years before him, Jack then travelled the world learning about culinary delicacies in every corner of the globe. But, upon his return to Padstow, Jack was soon back in the family fold at The Seafood Restaurant as sous chef.
Fast forward a few career steps and he now works as Chef Director of the entire Rick Stein Group. He's even published his own recipe book and starred in a number of television shows.  
At this year's Farmfoods European Legends Links Championship, Jack will be testing the culinary skills of some of the biggest names in the golf, including event host Ian Woosnam OBE and Paul Lawrie OBE, in a pre-event cookery school. What's more, he has also designed the Pro-Am dinner menu on Thursday night.
We sat down with Jack to discuss his passion for food, his love of golf and growing up just a stone's throw from the tournament course…
Did you always have ambitions to follow in your father's footsteps and become a chef?
My whole life, I've been in and around restaurants. From the age of 12 or 13, I was in the kitchen and then front of house. Then I did a couple of degrees in Cardiff and tested the water in some other careers. Ultimately though, I was always going to come back to cooking.
Cornwall is famous for its seafood. What is your favourite seafood dish?
The crab here is amazing. In my opinion, it's one of the best crabs in the world. Over on the east coast, they are quite small but here they're massive and can be up to one and a half kilos.
I love them boiled and served with mayonnaise. Keep it nice and simple. You don't want to mess around with fish too much, as it is so tasty if you just let it speak for itself. On the whole shellfish is very sustainable, delicious and we have loads of it here.
Have you always been a golf fan?
I was a junior member here at Trevose when I was a kid and my friend's grandfather actually taught me how to play.
I've always been a fan of Tiger Woods, especially in the early Noughties when I was playing quite a bit of golf and he was just unstoppable. Nowadays, I'd say Rory McIlroy is my favourite.
I played in the event in 2019 as well as at the Farmfoods European Senior Masters at the Forest of Arden and it was great fun, so I'm looking forward to getting out there again this year.
Last time, I played with Paul Eales (former European Tour winner) and he was an absolute legend. The Alliance format is such a great opportunity for people to watch the best players in the game up close.
Paul was great with me, giving me little tips as we went through our round and it was just a fantastic experience.
What makes Trevose such a special place to play golf?
I genuinely think it's the people and the way it's run. It has a fantastic feel to it because, ultimately, the team here just want people to enjoy themselves. 
When I'm playing here it just gives me a feelgood feeling and, for me, all the views the course has are extremely nostalgic.
Constantine Bay, Trevose Headland, Booby's Bay, these are all places I grew up, so it feels like going home to me. You can even see the house I grew up in from most of the course.
Like us, Trevose is a family business and the Gammon family and our family have known each other for years, so it's good to work together.
The event also has lots of things going on off the course that are great. This year, we're going to use our cookery school to do some events with the players and their partners to showcase the great food and drink the area has to offer.
There is also lots to do in the area besides golf and our restaurants and cookery schools are perfect for that too.     
Be sure to check out Jack and legendary names of the game, including Ian Woosnam and Ryder Cup captain Thomas Bjørn in action at the Farmfoods European Legend Links Championship from June 17 – 20.