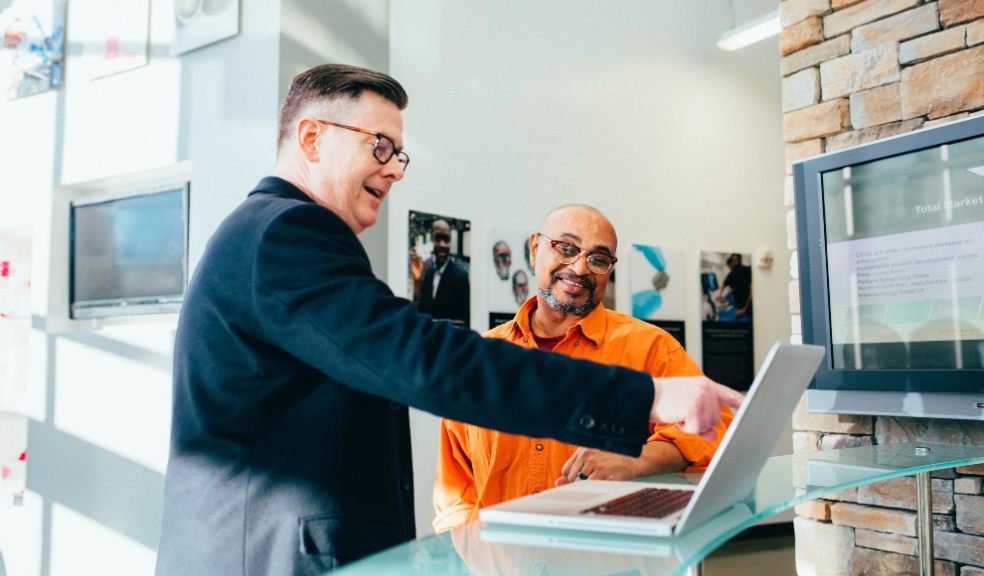 Currys detects a rise in H.I. as its customers crave real-life advice before they buy
There's a new breed of post-pandemic shopper, demanding help from experts and rejecting faceless robot retailers, says new look Currys (previously Currys PC World), as it relaunches its UK stores and online services. A new trend labelled "Robot Rejection", shows these shoppers are demanding face-to-face human interaction and expertise alongside digital experiences when buying everyday technology – which is often expensive, unfamiliar and difficult to select.
As it enters a new omnichannel chapter in its 137-year history, Currys, the UK's biggest retailer of tech, has been at the forefront of this emerging trend. The retailer has evolved its hybrid retail format of online and in-store experience, creating more opportunities for today's buyer of technology to access Human Intelligence online. In Summer 2020, the retailer launched its pioneering 24/7 online ShopLive platform, ensuring shoppers could still obtain in-person advice from one of their expert colleagues from a laptop tablet or phone, without visiting a store. The service has proved to be popular with over 3m customers engaging with it to date.
Currys states that in 2021, 58% of people shopping for expensive and unfamiliar tech products would like to speak to a real-life human expert before they buy, whether that be instore or online. In fact, 57% of shoppers that get human help are more satisfied with their purchase than those who don't, and they state that interactions with humans lead to them making the right choice first time, meaning it's a quicker and more cost-effective way to buy. Computing tech is the category with the highest need of expertise, where 60% of people said they wouldn't make a purchase without expert advice. Research also shows that return rates are higher when consumers don't speak to an expert beforehand, with 64% of people saying they'd be happy with the right product and less likely to return their purchase if they got the advice with real human expert help.
With over 3 million online shoppers demonstrating the need for Human intelligence via its ShopLive service, Currys has been able to pinpoint the tech categories where online tech shoppers most look for real-life human expertise, with those coming out top including laptops, washing machines and TVs. The most popular time to get that expertise is between 5pm – 7pm on weekdays and 3pm on a Saturday. Following this starting success, Currys predicts it will have around 150,000 online ShopLive conversations during Black Friday week, this November.  The retailer is also set to build on this success with a new Currys website that will enable better content, more personalisation and a slicker, quicker experience.
The retailer believes stores will remain important for customers too. Internal data from the business also shows that 61% of shoppers believe it is important to see a product in real-life before buying, where consumers can have conversations with experts in a unique environment where they can see, touch and play with the tech they are thinking about buying. Currys is also making improvements within its bricks and mortar locations, introducing content that shows how products work on interactive customer-facing digital screens. In addition, the retailer is making it possible for people to get hands-on with the latest tech before they buy, powering ever more of the products on show, including laptops, TVs, gaming consoles, vacuums and much more.
Currys is investing nearly £25m in extra advanced training for its 13,500 colleagues which involves undertaking an additional 16 hours of further training. This new programme will teach colleagues about the intricacies within technologies; how they work, what the benefits are, and how to demonstrate them in store. In addition, they will be taught how to have a great conversation, asking the right questions to identify the shoppers' unique requirements and best match them to the right tech for them. So far, in total colleagues have completed an additional 121,674 hours of expert coaching – significantly more training than any other tech retailer – with more to come.
Ed Connolly, Chief Commercial Officer at Currys, says:
"Technology is such an intrinsic part of our lives now. More than ever before, prior to handing over their hard-earned cash, people want advice about the tech they buy from a real-life human expert, particularly when it comes to expensive and more complex kit.
"The new Currys brand has evolved to match this changing consumer need, delivering helpful, expert in person advice when and where shoppers need it most. We have invested heavily in our website and in ensuring that our frontline colleagues are not only the absolute experts on the tech we sell but that they also know how to get to the heart of what customers need and want. Every colleague is trained to listen first, inspire and then find the right product for the shopper and educate them on how to use it, in a way an algorithm simply cannot.
"We know not every purchase requires guidance from an expert. Sometimes shoppers already know what they want, or they just need something small and simple, which our websites and stores are well equipped for. However, when it comes to more complex products, speaking to someone in-the-know, whether that is online or instore, is what today's new trend in 'Robot Rejection' is all about. Expert advice shortcuts the lengthy buying process, cuts out confusion and ultimately arms shoppers with the tech they need. Whether it's understanding the difference between resolution and HD Ready when finding the perfect TV amongst the OLED or QLED acronyms, or simply wanting help deciding on a washer dryer combo, our experts are on hand to answer any questions."
Martin Raymond, Co-Founder & Editor in Chief of Future Lab says:
"'As our research suggests, more and more people are looking for human-in-the-loop experts, advice, and face to face moments with brands as screen and AI fatigue sets in post-COVID. We also trust people and experts to give us the right kind of advice, at a time when we're increasingly understanding that as many as three quarters of self-styled  influencers we are meant to follow on TikTok and Instagram hide their ad disclosures, while many of those 'peer' reviews we read on Amazon etc, are really paid-for reviews, so more and more, we want named experts we can independently validate, and to speak with brands that have a history and a reputation in the marketplace."
To mark the rebrand and opening of new look Currys stores, the company has launched its biggest ever brand campaign calling out fake reviews, bot farms and lazy algorithms. A new TV ad shows how life is better when you listen to experts, especially when it comes to tech, and heroes the role of Currys' expert colleagues. Watch the ad here: https://www.youtube.com/watch?v=P5Kz6bRSKiQ.