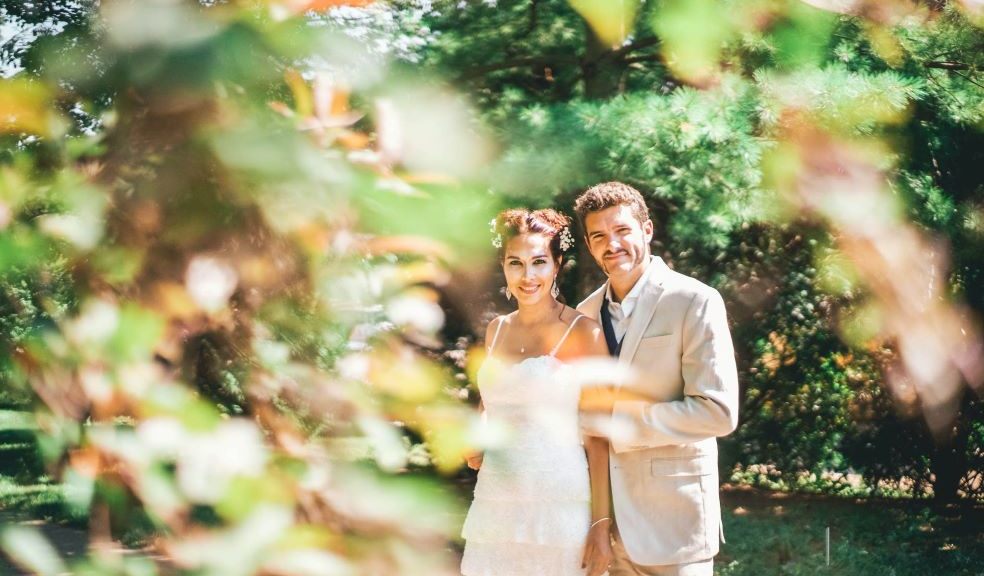 6 Heatwave Hacks for Surviving September Weddings
Wedding experts share top tips for couples and guests attending weddings this month, on how to stay cool as temperatures soar across the UK
More than 17,000 British couples are expected to get married this month, with more than a fifth of all 2023 weddings planned for Autumn, according to Hitched.co.uk 
Booze-free weddings are on the rise as more than 1-in-10 couples in 2022 chose teetotal wedding receptions on their big day, and are the safest option in a heatwave
Wedding experts share heatwave-friendly wedding favour ideas including miniature bottles of SPF, hand-held fans, personalised reusable water bottles, and flip flops
There's nothing Brits love more than a heatwave. It only takes one weather forecast of a slightly sunny day for the entire nation to dust off the barbecues, fill up the paddling pools and lounge around in beer gardens. But what if your wedding falls during a nation-wide heatwave?
Lots of couples stress about whether or not it will rain at their wedding - but blazing hot weather should be just as concerning. Whilst a sunny forecast on your wedding day can feel like a lucky result, and as temperatures soar across the UK, wedding experts at Hitched.co.uk have pulled together their top tips for couples getting married, or guests attending weddings this week, on how to stay cool, calm and collected amidst the latest UK heatwave. 
Consider booze-free alternatives
The latest National Wedding Survey revealed that tee-total weddings were on the rise, with more than 1-in-10 couples choosing booze-free options at their weddings in 2022. As drinking alcohol is not recommended in such hot temperatures, with diuretics like alcohol and coffee can bring on dehydration a lot faster, why not consider booze-free options for guests this week.
Rima Barakeh, deputy editor and wedding expert at Hitched.co.uk says: "If cocktails are on the menu this week, consider making virgin options with more refreshing mixers like flavoured soda water instead of Prosecco, or alcohol-free spirits so guests can still enjoy the taste of the cocktail, but without the dehydration from the alcohol."
Add some shade
Celebrating outdoors in the finest of Britain's climate is all well and good, but expecting guests to melt in direct sunlight all day long isn't feasible. Rima suggests couples: "Contact your venue to check that they are able to provide shaded areas for you and your guests. If you have exclusive use of your wedding venue, it may be that they move you to different areas where natural shade is available as the sun moves position."
Alternatively, Rima says that marquees, parasols and gazebos are great options for creating temporary shade. "Most venues should have a plan or resources readily available for extremely hot weather but it's important to check in before the wedding day so that you're not trying to problem-solve on the big day."
Stay hydrated
"It sounds obvious, but unless drinking water is right in front of you, it's easy to become dehydrated and not drink enough during such busy and fun celebrations." Says Rima. It is recommended that adults drink around 2L of water on a normal day, so to make sure everyone is staying well hydrated, "consider a 'hydration station' at your wedding reception where you and your guests can easily access drinking water.
"You can make these look super pretty by using vintage water dispensers and filling each one with garnishes such as cucumber, lemons or lime to give it an elevated feel. Make sure this station is either indoors, in the shade or accompanied by lots of ice to avoid warm water - no one wants to drink that!"
Aimee Piper, Skin Specialist at VieDerma says: When the body gets exhausted, water acts like an energy drink. It boosts energy in the body and helps overcome fatigue. It will be your best companion during the warm, fun, and eventful wedding ceremonies."
It's not just the insides you need to keep hydrated, either. Skincare experts at Lulu and Boo Organics also highly recommend using facial toning mists to keep skin hydrated and cool throughout the day as well as keeping on top of drinking water. 
Take care of vulnerable guests (including Pets of Honour and suppliers!)
"Whilst it's important to keep all of your wedding guests hydrated and in the shade, some will be more vulnerable than others. If you have young children or elderly guests, assign someone from the wedding party to make sure they are hydrated and not spending too much time in direct sunlight. Sunstroke and sunburn can become dangerous – even deadly, and often, people don't realise it's happening until it's too late. 
This also applies for those who are planning on having pets or animals at the wedding. "Whether you're inviting your dog to be a ringbearer, or having a petting zoo as entertainment, these animals aren't able to make sensible decisions for themselves, and will feel the effects of the higher temps faster than humans. Again, ensure someone is tasked with keeping them cool, hydrated and safe in the hotter weather." 
Rima adds: "While it's important to make sure your guests are being looked after on the day, you should also consider your suppliers' needs. These suppliers will work tirelessly all day to ensure a couple's wedding is as perfect as it can be, and often their day won't include food or drink breaks. 
"This week, during the heatwave more than ever, consider designating someone from the wedding party to ensure that every hour or so the photographers, wedding planners, caterers, entertainers and venue staff all have a nice cold drink and aren't getting too hot."
Keeping your cool in your wedding fit
The last thing anyone wants to be wearing in 30C+ weather is a heavy gown or tailored suit, so to make sure couples keep their cool in their wedding finest, Rima recommends ditching any glamour for something more comfortable on the day.
"Unless your outfit is made from cotton, you're going to struggle in this weather. However, those wearing a wedding suit may want to choose a short-sleeved shirt for the reception, and maybe even a smart pair of suit shorts…
"For those planning to wear a heavy wedding dress, now's the time to consider a second outfit for post-ceremony celebrations that is more suited to the weather. No-one will blame you for changing out of your gown in this weather, in fact, they will likely praise you for it!"
When it comes to wedding hair and make up, Rima says: "If the weather is going to be super hot on your wedding day, think about a modern up-do instead of flowing hair that will stick to your skin, and speak to your wedding makeup artist about sweat-friendly products. 
"You'll definitely want to add SPF throughout the day, so consider using a lighter foundation and base to avoid suffocating your skin, and then top up throughout the day with a non-oily face SPF in a spray bottle. It's also worth investing in an on-the-day powder to blot your skin when it becomes shiny, something that is literally unavoidable in soaring temperatures!"
Aimee Piper adds: "Wedding season is the perfect opportunity to try out all those different summer wedding makeup looks you have been waiting to do. However, if you are not careful with your product selection, you risk your makeup slipping and sliding off your face when you step into the summer heat. Therefore, we swear by lightweight, sheer, and creamy products; think tinted moisturisers and cream blush – these products amazingly lessen the chances of your makeup turning into a sweaty, cakey disaster when the sun hits. "Prepping your skin and using the correct skincare can be the perfect solution to smooth, flawless makeup and skin. There are some easy hacks that you can do to ensure that your makeup stays on looking flawless! Lastly, priming the skin helps to last through any wedding activities. The only tool you need for primer application is your fingers. After rubbing a small amount, let it set on the skin for a minute and then apply your skin makeup products on top for a perfect base." Heatwave friendly favours When it comes to leaving your guests with lasting memories by way of a wedding token, Rima says: "There are so many cute wedding favour ideas that will aid a heatwave wedding and we can guarantee your guests will be super grateful. Even if you've already sorted your favours, we would highly recommend having some of the below products near your 'hydration station' or in the bathrooms at your venue. Trust me, it will make such a difference!"
Miniature bottles of SPF are a cute and fun way to remind your guests that sunburn is no joke. You want your friends and family to remember your wedding for the right reasons, not for the red and white 'tan' lines they're now stuck with for the next week.
Small electric fans are nothing short of heaven-sent when it comes to high heats. They'll go down a treat with your guests but remember to provide batteries - the only thing worse than not having a fan on a boiling hot day is having a fan that doesn't have any batteries
Flip flops are a great heatwave wedding favour. They will keep your guests' feet feeling both cool and comfortable and will allow the wedding party to carry on way into the night as no one will be complaining of painful feet - let the dance battle commence
Reusable water bottles personalised with guests names will show what a considerate couple you are, for both your guests' wellbeing, but also that of the planet…  
For more tips on how to stay cool on your big day, visit https://www.hitched.co.uk/wedding-planning/organising-and-planning/heatwave-wedding/