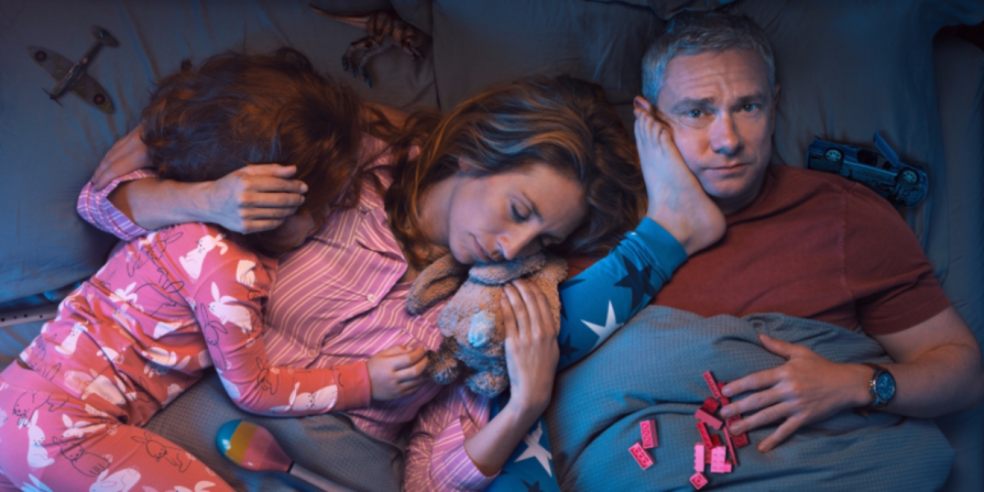 Martin Freeman: You go through life thinking you are a good person and then you become a parent
New Sky Original comedy Breeders is billed to explore the paradox that every parent knows but never admits: that you would willingly die for your children, but often you also want to kill them.
"The series is based on things that happen to me as a dad," reveals star Martin Freeman, noting it's "trying to be a bit darker and more thought-provoking about life as a parent."
Father of two Freeman plays Paul, a caring father who, sleep-deprived, is discovering he's not quite the man he thought he was. By contrast, his partner Ally (played by Daisy Haggard), manages to run a recording studio and – wildly – has the ability to read a story to their two young children while she's technically asleep. But with full-time careers, ageing parents, a mortgage, upheavals in their relationship and the curveballs of parenting to contend with, it was always set to be a tale of two halves.
"We are trying to make something hopefully true, open, relevant – certainly for anyone who has ever had small children!" says Freeman. "I noticed that when people ask new parents, 'How's it going?', they always say, 'It's just amazing, isn't it?', no matter how awful it actually is.
"I think, 'When are we going to cut this nonsense?' Yes, of course, it's amazing. Once you've had kids, that is the reason to be alive, the most important thing in your life. That, to me, goes without saying.
"But what doesn't go without saying is how angry you are at times," notes the Fargo star. "It's individual, of course, and I can only speak for myself, but I think it needs to be said how angry you are as a parent and how [you're] full of this rage that is going nowhere!"
So just how much of Paul and Ally is a true fit? "I tried to be myself as much as possible in this," says Freeman. "We deliberately wanted to make Paul and Ally, not rich, not dirt poor, and in a reasonably happy marriage.
"They haven't got the world against them, so that can't be the reason why he has these fits of rage. And it can't be because he is unemployed, and he's battled in his life all the time. This guy has got quite a nice life. So how do we explain that?" he asks.
"That was the thing with me as a father… Whenever I would get those moods, of course the first thing I would do is go, 'Why am I feeling like this? I've got a really fortunate life'.
"I didn't have the excuse of living on £60 a week or doing a terrible job that I hated, or being unemployed," he adds. "So that is worth exploring."
"I think parenting has helped make me a better person by highlighting what needed to get better," Freeman notes. "It's a shock because you have gone through life thinking you're a good person, and then suddenly you become a parent and you find out that you aren't necessarily!"
So what's the takeaway message? "That parents sometimes can be quite spiky and really, really not nice middle-class liberals," he responds. "But we don't tend to either admit those feelings to ourselves, and certainly not to other people. We think we can talk our way out of everything."
Breeders starts on Thursday, March 12, with a double bill on Sky One and streaming service NOW TV.
Picture: Press Association images