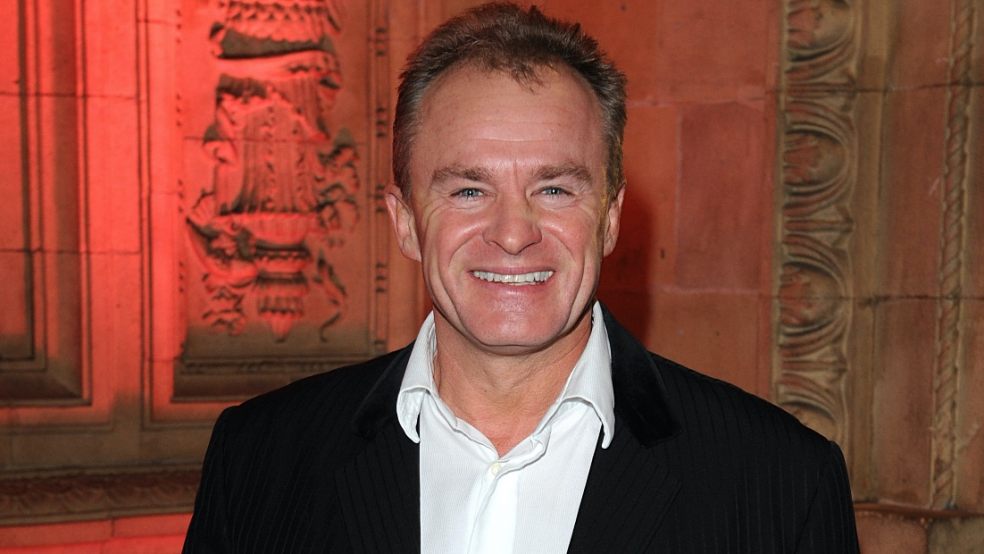 Laughter is the best medicine right now says Bobby Davro
Comedy legend Bobby Davro is happily chatting and firing off jokes, when suddenly the laughter stops. He's spotted a large spider and there's no mistaking his fear.
"Please come and get it," he wails to his daughter Brittany, 25, as he stands on a chair in the living room of his Surrey home.
"I'm not just scared of spiders, I'm terrified of them," he explains, after it's been removed. "It's proper arachnophobia. I actually cry if I'm on my own and can't escape them and the fear makes me come out in goosebumps like something's crawling on me and takes ages to go.
"My friend Paul McKenna gave me hypnotherapy to cure me, but it only lasted a couple of years. I could never go into the I'm A Celebrity jungle."
Luckily, the spider proves to be only a temporary halt to the merriment. Once calm is restored Davro, 61, is back on form, bombarding me with a barrage of quick-fire gags and hilariously accurate impressions of famous personalities – from Donald Trump and David Attenborough through to Mrs Brown from TV's Mrs Brown's Boys, Michael McIntyre, Jimmy Carr and an impressive rendition of a Frank Sinatra song.
He's also bubbling with enthusiasm about performing with celebrities – including actress Amanda Barrie, Gogglebox's Sandra Martin and Sandi Bogle, and Lady Colin Campbell – and NHS staff to record a new charity single, a cover of Mariah Carey's Hero. Profits are going to NHS Charities Together in support of the Covid-19 appeal.
"I jumped at the chance to be on the record because it's for such a good cause, and it's so wonderful to be able to perform at all in these difficult times," says Davro, who, in common with other performers, has seen his usually-packed schedule of pantomimes, summer shows, concerts and personal appearances put on hold due to the pandemic restrictions.
"I'm not complaining because there are people out there losing their lives and a lot worse off, but it's a horrible time for people in show business," he says ruefully. "People think if you've got a name and you're in this business, you're rolling in it, but I'm not. Literally overnight my income has vanished."
Ever resilient and cheery however, he's using the time to expand his comic repertoire and add to his encyclopaedic collection of jokes.
Davro insists: "Laughter's the best medicine at the moment – until they find a vaccine! I'm a total believer in being positive – I've always been a glass half-full person – and that no matter what happens in life, you just have to deal with it, stay upbeat and move forward."
It's an attitude that's served him well during his decades in showbiz – that most fickle of professions.
He made his television debut in 1981 and through to the Nineties was rarely off our screens, with his own Saturday night ITV shows, Bobby Davro On The Box, Bobby Davro's TV Annual and Bobby Davro's TV Weekly.
He then moved to the BBC for a series of successful shows, Public Enemy Number One, Rock With Laughter, and Run The Risk.
"I had 10 great, golden years in television, which I would have loved to have gone on for longer. Not being able to be creative with my own shows in television any more was very hard at the time," Davro reflects. "I'd wanted to be like Des O'Connor or Sir Bruce Forsyth but things changed.
"I don't think it was to do with my abilities, rather it was down to fashion and a move to a different sort of comedy. Nowadays it's all alternative comedy, with young comedians focusing on observational acts, while I'm a gag man, an old-school comic, but I call it 'cool school'."
His versatility – he's equally at home presenting, acting and singing as performing in comedy – has ensured his longevity however.
"I'm proud that I appeal to all ages and have a very broad base of fans. I'm always looking at ways to keep my act fresh and my repertoire sharp, so it's contemporary and up to the minute," he says.
He's still well recognised from his role as wide boy Vinnie Monks in Eastenders in the mid-Noughties, and appearances on a string of reality shows, including Dancing On Ice, Come Dine With Me and Celebrity Big Brother in 2015. He most recently took part in The Chase Celebrity Special.
While reluctant to talk about his private life, Davro reveals he's currently single. He's had an on-off relationship with Vicky Wright, daughter of Wolves and England footballer, Billy Wright, for 12 years.
"Things were difficult and the lockdown's made it worse. I can't see her and she can't see me. I had to make a choice about whether I went to live with her during lockdown, or be at home with my daughters," says Davro, who has daughters Brittany, Tierney, 23, and Marnie, 20, from his 10-year marriage to former Page Three model, Trudi Jameson.
"My girls come first so I'm with them. I'm sad that at the moment, my relationship with Vicky seems to have come to an end, but who knows what might happen in the future. I miss her dreadfully, still love her and will always love her."
Thankfully, he's busy giving online performances, writing a play and continuing his charity work – he's a passionate fundraiser for Surrey hospices and Variety, the Children's Charity.
"If I have anything sad in my life, I put it in an imaginary box and try not to think about it. I believe in wallowing in happiness, not sadness," he says firmly.
"It's important to look after your wellbeing and I do that by playing happy music, watching feel-good movies, and chatting to my family and friends. In normal times, I love golf and fishing, both of which are brilliant stress-busters."
He's untroubled by ageing too – "I actually feel about 40 because I have so much energy and bounce" – but he does battle insomnia, caused he believes by "years of late nights in show business, which make it very hard for me to get to sleep before the early hours," he says.
The biggest boost to his wellbeing, he believes, will be a return to performing in front of audiences for live shows. "It's one of the loves of my life and a big loss, but it'll come back when things get back to normal, and show business will come back even stronger," Davro declares.
"Once you step on stage in front of people and perform, it's the best medicine there is – any worries, problems or ailments just vanish. It's why I'll never retire. This business is like an addiction, which you don't ever want to give up."
You can download the Hero charity single via I Tunes, Amazon Music, Spotify and all major download sites with all profits going to NHS Charities Together in support of the Covid-19 Appeal. Visit nhscharitiestogether.co.uk.
Image: Ian West/PA