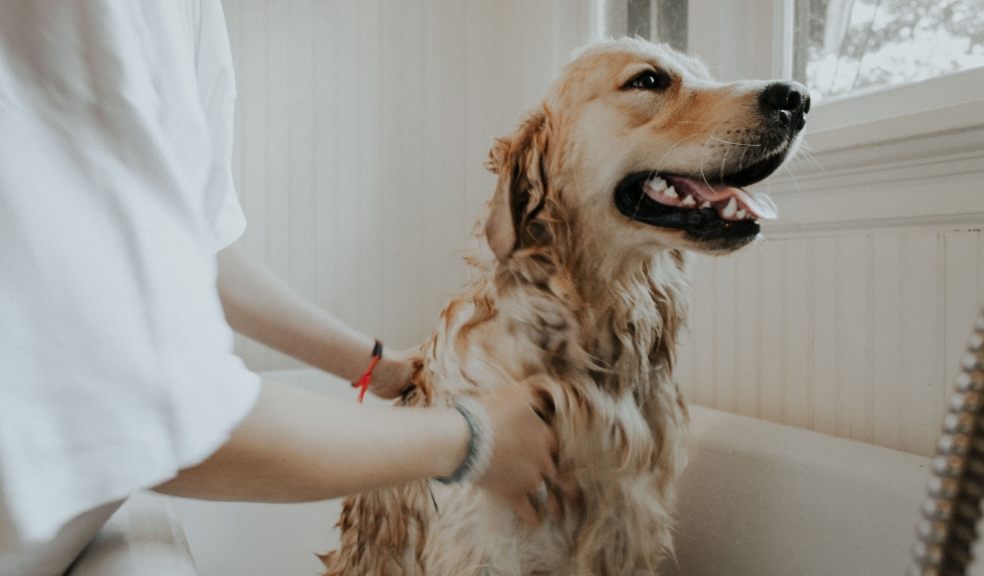 REVEALED: How much UK dog owners spend on professional grooming each year
There has been an undisputed surge in demand for dogs and puppies in recent months. Searches for 'puppies for sale' are up an average of 42% compared to 2019, with national lockdowns igniting a desire for canine company and presenting many people with time on their hands to dedicate to looking after their new addition to the family. We all know a dog is for life and not just for lockdown, and with so many more people becoming dog owners recently, there's never been a better time to take the best possible care of our pets. 
Mira Showers commissioned a survey of over 1,000 dog owners in the UK to find out how confident they are with at-home grooming, which breeds are the most spoilt by their owners, and the cities in which dogs are pampered the most. 
It was revealed that most dog owners bathe or shower their dogs at home once a month (30%). However, the results also uncovered that some dog breed groups are pampered more than others. Dogs in the Hound Group (such as Beagles, Dachshunds, Greyhounds, Whippets and Rhodesian Ridgebacks) are washed the most often at home, with almost 10 times a month being the average – that's roughly once every three days! This is closely followed by the likes of Bichon Frises, Bulldogs, Dalmatians, French Bulldogs, Poodles and Tibetan Terriers – all part of the Non-Sporting Group of dog breeds – with just over nine at-home grooms a month. Meanwhile, Cockapoos, Lurchers and mixed breed dogs tend to have a bath or shower in the comfort of their own home just three times a month. 
Investigating pampering habits by city, dog owners in London bathe or shower their pet at home the most often, with the average respondent saying they do this around seven times a month. Owners in Bristol and Manchester are close behind, with an average of six washes a month for their dog(s). Perhaps those big city dogs are huge fans of a roll in the mud whenever they get chance to let loose in great outdoors. Meanwhile, respondents in Glasgow give their pooches a clean just twice a month. 
It's a similar story for professional dog grooming sessions, with Londoners taking their pooch for a pamper around four times a month, costing them roughly £210 a year. In Bristol and Birmingham, furry family members get professionally groomed three times a month on average – costing around £78 annually in Bristol, and £122 annually in Birmingham. Breeds in the Working Group – such as Great Danes, Huskies, Newfoundlands, Rottweilers and Schnauzers – get taken for a professional groom the most, with an average of six sessions a month. That's a grooming session every five days or so! 
Annually, dog owners spend an average of £131.40 for professional dog grooming, but the survey also found that an estimated 81,000 dog owners in the UK spend more than £3,000! Around 1 in 7 dog owners surveyed said they don't know how to wash or groom their dog themselves. 
Matt Herbert-Sandell, Digital Communications Manager at Mira Showers, added: "Our survey found that an estimated 822,000 dog owners in the UK even shower with their dog; talk about multitasking! A dual shower is a perfect solution for dog owners who need some extra flexibility and multitasking power to help them groom their dogs at home. The fixed rainfall shower head gives the owners a fantastic showering experience for themselves, while the handheld shower head is ideal for manoeuvring around a mucky pup! Our survey also found that 2 in 5 owners wish they knew more hacks to make showering their dogs at home much easier, so we enlisted experts to help." 
To help first-time and veteran dog owners alike, Mira Showers enlisted animal charity, Wood Green, and professional grooming experts at Purplebone, London's premier dog grooming spa, to provide these at-home grooming tips: 
The water temperature of your shower or bath should be lukewarm. Being able to comfortably run the water over your forearm is a sign the temperature is just right. 
Avoid getting water down the ear canal, as this can lead to infections. Be mindful of their eyes too, as shampoo can sting, just like it does with humans. 
Always use a shampoo made specifically for dogs. You should never use human shampoos or soaps because the ph. levels are totally different and can cause skin problems. Make sure to rinse the shampoo and conditioner thoroughly out of their coats. The team at Purplebone said: "A handheld shower is what we always use in our professional grooming parlours, because you can soak all areas of the dog to apply the shampoo first, then use it to thoroughly remove any excess residue of shampoo and conditioner." 
Double coated dogs (like Pomeranians and Chow Chows) should be washed twice a month maximum, but especially during shedding season to prevent shedding hair from matting and allow the skin to breathe. Single coated breeds (like Poodles and Malteses) should be washed more regularly (maximum once a week) as they do not shed and their coat as often and it can easily become matted. 
To keep your dog calm and happy, there are a few things that can be used. Lots of rewarding, whether it be vocal or treats, really helps. Some dogs need help keeping focus during washing and brushing at home, and more anxious dogs can benefit from the naturally calming effects of licking; items such as a lickimat covered in natural, spreadable treats like peanut butter or Greek yogurt can help. 
There will always be some dogs that love water, and some that just tolerate it. If you can make it as pleasant as you can through praise and treats, it will be a much more relaxed experience for both of you. Ness Croft-Taylor, Veterinary Surgery Manager and qualified dog groomer at Wood Green, said: "It's beneficial to have a handheld shower to regulate the flow, so if your dog is timid you can introduce the water gradually." 
To find out more about the research, more at-home grooming tips from these experts and a gallery of Instagram's most adorable bath-time dogs, visit: The UK's Pampered Pooches.